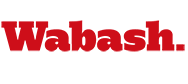 Wabash Grads Bring Geist-Fishers Debate to Campus
by Gary James '10

November 16, 2007

Two alumni involved in a contentious public debate about city annexation brought Wabash students into the process Thursday night.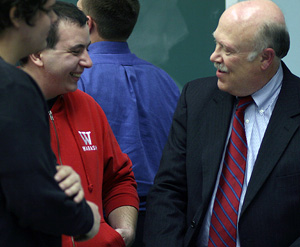 Brad Johnson '71 and Mike Shaver '73 led a discussion Nov, 15, in Baxter 114 on Democracy, Public Policy, and Involuntary Municipal Annexation in Indiana. The on-going battle between the city of Fishers and the non-incorporated town of Geist about annexation was at the center of the debate. Johnson is a citizen of Geist who opposes Fishers' attempts to acquire the town. Shaver is an economic developer who is working for Fishers.
Twenty economic and political science students were in attendance, and they were encouraged and willing to use the discussion as a way to apply what they have learned in class to real world policy analysis.
"For those of you who are doing economics, when you go out to look for jobs try to use words like 'I'd like to do policy analysis,' which will be really important in some of the things that you're going to be doing," said Shaver, who laid out the legal framework governing annexation in Indiana. "The stuff that I do is a lot of public policy, economic development policy, how do we plan our communities so that we have good things to offer and increasing property values. So this annexation issue is part of how communities grow and you can't separate it from those two things, although it's a very inconvenient thing for the people who are being annexed."
Fishers continues to experience sustained growth and wants to acquire Geist in order to generate more revenue. Some Geist residents oppose the plan because it will mean their taxes will go up and because they will be put under Fishers' political control. The entire debate is made even more complicated because the residents of Geist receive fire protection, police assistance, and park and recreational benefits without paying the full price of the services, said Mr. Shaver.
Citing Indiana Code, Shaver went through the statutory requirements for cities that want to annex other locales. A city must make public its intention to add more land, provide how capital and non-capital services will be provided, as well as provide approve official plans, budgets, and other requirements. If the town attempting to be annexed wants to resist, 65 percent of residents must sign a petition stating that fact. Whether or not either side met their obligations has been and continues to be the subject of much litigation.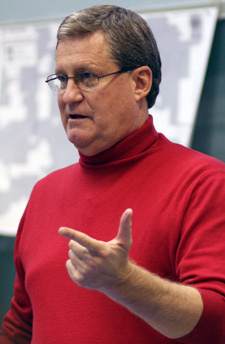 As a result of the political fallout, litigation, and confusion, Fishers now has three annexation plans on the table while Geist is seeking incorporation.
"The bottom line of this whole thing is that it's a revenue grab on the part of Fishers," Johnson said. "From a public policy standpoint, I can understand why they're doing it. Clearly the revenues they will generate from annexation will exceed the cost of the services they will need to extend over the years. It will be a net positive revenue flow to them. But whether or not that justification supports annexing their neighbors against their will is a political question. Why use the overkill … of the approach of political control over an area when really all it is about getting additional revenues?"
At the end of the night, the students and alumni put forward ideas increasing surcharges on the Geist residents, ending services in Geist altogether, removing involuntary annexation, allowing Fishers more freedom on municipal tax levies, conduct arbitration proceedings, or require concurring referenda from both parties for annexation.
There was no agreement on how to go forward, but they all agreed the system is inefficient and the event itself was educational.
"I thought it was pretty informative," said Travis McLaughlin, a junior who sees himself making a profession of the types of policy analyses that go into developments like the annexation controversy. "I thought it was very interesting to hear the lengths both sides were going to to fight it out, and how much it's being decided based on politics and disagreements about economics; how there's really not a clear answer on the table yet. There's no substitute for real world experience, but having people coming to share real world experience is the next best thing."
Economic Professor Frank Howland thought it was a useful model of how policy disagreements should be argued.
"I thought it was very interesting," said Howland, who worked through the Experience Indiana program to organize the event. "I thought it was very good to have one practitioner and another interested party. It was an excellent example of really friendly, reasonable disagreement with good ideas put on both sides."
In photos: Top left, Johnson discusses the case with students after the presentation. At right, Shaver makes a point during the discussion.