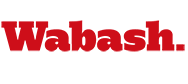 Hard-Running MSJ is Wabash's First Round Opponent
by Jim Amidon

November 11, 2007

The College of Mount St. Joseph is a Catholic liberal arts college located in Cincinnati, Ohio, and the Lions are appearing in the Division III playoffs for the fourth straight year. The Lions are perennial favorites in the Heartland Athletic Conference, but this year bowed to Franklin for the league championship. The Lions posted a 9-1 regular season record and have won four straight games since losing 28-19 to Franklin.

The Mount St. Joseph football team boasts a balanced attack offensively and a defense that has recorded three shutouts (37-0 vs. Anderson, 10-0 vs. Defiance, and 28-0 vs. Bluffton). The team averages 405 yards and 33 points per game and yields just 268 and 14 points per contest.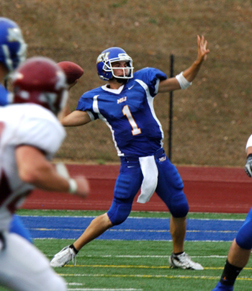 Junior quarterback Vince Palmer (pictured right) makes the offense go. He's thrown for 1,684 yards and 15 touchdowns with only five interceptions, and has rushed for 222 yards.
The Lions' running game is impressive with three runners posting over 450 yards and six touchdowns each. Senior Mike Lovell (5-9, 185) leads the team with 559 yards and eight touchdowns and has caught eight passes for 129 yards and another touchdown. Jake Davis, a 5-9, 205-pound rookie, is second on the team with 477 yards, but his nine touchdowns lead the Lions. Senior Kevin Cocanougher (5-11, 190) averages 7.6 yards per carry with 450 total yards and six touchdowns.
Mike Jones, a 6-3 senior receiver, leads the team with 32 receptions and four touchdowns, while fellow senior Jonathan Burrell has 22 catches and two scores. Junior Tim Meiner (6-2, 165) is the team's best deep threat with 20 receptions and five touchdowns; he averages 17.5 yards per catch.
Mount St. Joseph has an excellent defense that allows just 268 yards and 14 points per game. The Lions have a veteran secondary that is particularly tough against the pass. They allow just 137 passing yards per game and have intercepted opponents 18 times on the season.
Junior Ricky Stautberg leads the team with six interceptions, while senior Phil Potter has five interceptions, two of which he's returned for touchdowns. Senior Joel Steinmetz has four interceptions.
Senior Kyle Prosser (6-2, 215) anchors the linebacking corps and leads the team with 92 tackles. Junior safety Nick Yahl (6-1, 195) is second on the team with 74 stops, but has 10.5 tackles for loss and 3.5 sacks.
Junior Rocky Siegel (6-0, 235) is a hard-hitting linebacker with 70 tackles. Sophomore defensive lineman Alex Harbin (6-4, 240) is the team's best pass-rusher with 9.5 sacks and three fumble recoveries.
In their 28-19 loss to Franklin, Palmer threw for 295 yards and a touchdown, while Lovell rushed for 118 yards and two touchdowns. Franklin did much of its damage on the ground, rushing for 243 yards. The Lions allowed Franklin just 140 yards through the air.
Photo of Vince Palmer courtesy of the College of Mount St. Joseph website.