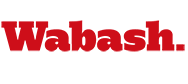 Wabash-DePauw Set for 114th Meeting
by Jim Amidon

November 8, 2007

Pundits speculating on the outcome of the 114th Monon Bell Classic have carved up every possible statistic and measurement to ascertain one team's strength over the other. But when the 9-0 Wabash Little Giants travel to Greencastle to play the 7-2 DePauw Tigers, it's pretty easy to break this one down.

DePauw needs to run the ball effectively.

Wabash needs to hold on to the football and continue its efficient passing attack.

Pretty simple, really.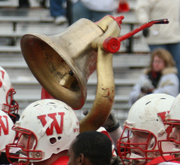 Saturday's game is sold out, but will be televised nationwide in high definition by HDNet. Kickoff is set for 1 p.m. Alumni offices have scheduled telecast parties in 58 locations across the country.
DePauw is on an upswing after a couple of mid-season losses which were due largely to the loss of their senior running back Jeremiah Marks, who owns virtually every career rushing record in DePauw football history. The 6-0, 210-pounder is healthy again and so are the Tigers, who have won three games in a row including last week's 21-0 shutout at Rhodes College.
The Tigers' offense starts with Marks (pictured below left), who averages 128 rushing yards per game and has 12 touchdowns in six games. His ability to gain good yards on first and second down is the key to the game for DePauw. If he's able to do that, options will open on the outside and over the middle for the Tigers' passing game, which is directed by sophomore quarterback Spud Dick (2,162 yards, 16 TDs).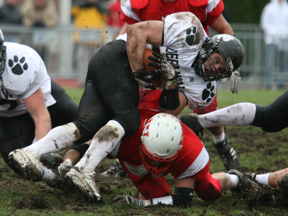 Dick's primary receivers are young, but talented. Sophomore Bryan Mulligan leads the group with 54 catches and three touchdowns, while rookie Alex Koors has 40 catches and three scores. The big playmaker for the Tigers is junior Chris Gasbarra, who averages 16 yards per catch and has scored five touchdowns.
While DePauw's passing attack is impressive, it alone can't carry the burden. Marks and Curtis Moore (279 yards, 2 TDs) will determine how long DePauw's offense is on the field (and how long Wabash's offense is standing around watching).
While Wabash's defense has yielded uncharacteristically high yardage totals this year (105 rushing yards per game), the defense has stiffened at the appropriate moments. Wabash's defensive linemen have the ability to take over the game if DePauw is forced into obvious passing situations, which is why Marks' ability to get quality yards on first and second down is so critical.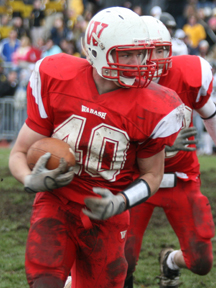 Wabash's senior-laden defense is an experienced group. Led by senior two-time All-American Adi Pynenberg (pictured right; 123 tackles, 6 sacks), the Little Giants' defensive unit boasts seasoned veterans at every key position. Up front, Wabash looks to senior defensive tackle Jared Lange (15 tackles for loss, 6.5 sacks) and junior end Darryl Kennon (19 TFL, 12.5 sacks) to pressure the quarterback, while seniors Justin Sparks, Wes Anderson, and Justin Gardiner help clog the opponent's running game.
Standing beside Pynenberg at linebacker is fellow senior Andy Deig (62 tackles), who has the ability to get to the quarterback and drop back into pass coverage. Outside backer Matt Kraft (52 tackles) and corner Richard Roomes are two-year starters.
The secondary includes three standout performers — junior second-year starter Chad Peterman (67 tackles, 4 INTs), senior corner Thomas Bell (32 tackles, INT), and junior safety Rich Lehmann (63 tackles).
Last year's Monon Bell Classic was played on poor field conditions, which helped Wabash's defense take over the game. A late interception by Pynenberg and a safety sealed the Little Giants' victory.
Marks will challenge Wabash's defense, though. Last year he picked up 94 yards and scored twice on the slippery track. He's never had a monster game against Wabash, but rushed for over 200 yards three weeks ago at Colorado College.
For Wabash on offense, it's pretty simple, too. Sophomore quarterback Matt Hudson (1,710 yards, 17 TDs) needs to continue to make good decisions and take care of the football. DePauw, with 29 quarterback sacks on the year, will come after him, to be sure. Hudson, though, has been unflappable in his previous seven starts and is on pace to break pass efficiency (181.6) records for Wabash and the North Coast Athletic Conference.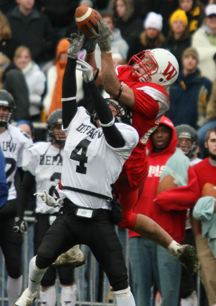 If there's a decided edge or advantage in Saturday's bell-ringer, it has to be Wabash's receiving corps. Led by seniors Mike Russell (pictured left; 42 catches, 4 TDs), Bart Banach (27 catches, 4 TDs), Gabe Guerrero (16 catches, 6 TDs), and Ray Green (17 catches, 4 TDs), Hudson's targets are sure-handed playmakers. Sophomore J-back Brock Graham is the team's leading receiver with 44 receptions and has scored four touchdowns, while junior Andrew Rode averages 14 yards on his 22 receptions.
Obviously the key here is that Hudson will need time to throw.
Hudson has thrown just five interceptions and the Little Giants have fumbled just six times as a team. Keeping that trend going—avoiding turnovers—is the key for Wabash in the Bell game.
Wabash's running game has improved steadily over the year with Evan Sobecki (454 yards, 4 TDs), C.P. Porter (299 yards, 2 TDs), Bobby Kimp (108 yards, 1 TD), and Brock Graham (5 TDs) splitting time.
Bringing the heat for DePauw will be defensive linemen Michael McNelis (6.5 sacks) and Alex Fitch (4.5 sacks), while linebackers J.J. Costello (53 tackles, 11 TFL) and Tarren Collins (49 tackles, 3 INTs) are sure tacklers. Ryan McElwain is the team's leading tackler with 56 stops.
Jevon Pruitt will lead the DePauw defensive backs. His five interceptions and seven pass breakups are team-highs, while Reed Scherrer has three interceptions. DePauw has intercepted opposing quarterbacks 18 times and has forced nine fumbles.
But when it comes right down to it, DePauw will want to run the ball and chew up the clock. DePauw wants to keep Wabash's quick-strike offense off the field and limit the number of opportunities Hudson has to sling the ball around Blackstock Stadium. For Pynenberg and company, the challenge is clear: stop the run and pressure the quarterback.
Pretty simple, really.
Of course there is all that business about special teams and turnovers. But those never come into play in a Bell game, right?