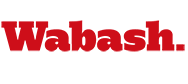 James Joyce to be Topic of Rice's Lecture
November 5, 2007

Get directions to Wabash College Center Hall

Wabash College invites you to hear Thomas Jackson Rice give a talk at 8 p.m. Thursday, November 8, in room 214 of Center Hall. The title of Rice's talk is "Cannibalism and Creation, or James Joyce Learns to Spit."

Rice is a professor of English at the University of South Carolina. He has published several books including, "Joyce, Chaos, and Complexity."

Sponsored by the English Department, Rice's talk is free and open to the public.