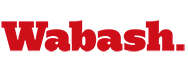 Little Giants Claim NCAC Title, 9-0 Record
by Howard W. Hewitt

November 3, 2007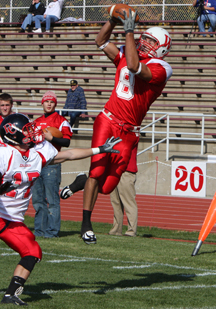 There would be no sharing this time.
Wabash College's Little Giants dominated Denison, 42-0, to win an outright NCAC championship and improve to 9-0 heading into next week's Monon Bell Classic. See photos from the Little Giants' victory by clicking here, here, and here.
The conference title is the third straight for Wabash, but sharing the title last year with Wittenberg was enough motivation to turn Saturday into a statement game.
"We wanted to send a statement going into the Bell Game and prove we're taking it one week at a time and not looking forward to the Bell," said senior defensive end Wes Anderson "We wanted to close out the NCAC season with a statement."
The defense made the biggest statement on Senior Day limiting the Big Red to 41 yards rushing. Denison entered the NCAC contest averaging just over 200 yards a game rushing.
"Our defensive coaches really worked hard this week on competing on third down," Coach Chris Creighton said. "They made that a point of emphasis and our guys responded to that and really had fun."
All that fun added up to startling statistics. Denison managed just 102 yards passing for a measly 143 yards of total offense. The Little Giants recorded 10 tackles for loss and six quarterback sacks.
The day's heroes started on defense and were led, as usual, by All-American Adi Pynenberg. The senior linebacker had 12 tackles, two sacks, with 3.5 of those tackles being for a loss. He passed Jim "Killer" Kilbane as the all-time leader in stops at 400 and kept right on rolling to finish the game at 407.
Senior defensive end Darryl Kennon had a team-high three sacks and a number of quarterback pressures. Underclassmen Chad Peterman and Bryan Watson added eight and seven tackles, respectively. Peterson had an interception and tackle for loss.
Not to be out-done by the defense, senior Mike Russell caught a career-high 11 passes for 131 yards and two touchdowns. Senior receivers Bart Banach and Ray Green each had a touchdown catch in the first half as well. Wabash put up 480 yards of total offense in the game.
All of that offense isn't possible without solid blocking, a concern at the start of the year when injuries struck the line. Much of the leadership responsibility fell on the broad shoulders of 6-7, 274-pound senior Brian Hilts.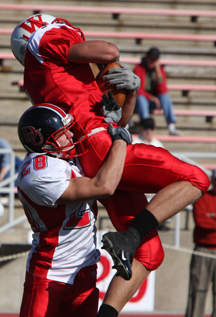 "Being the only senior lineman, I had to dig deep and act more as a leader," Hilts acknowledged. "I obviously had the most experience of all the guys. I've been here several times. I just had to step up and be more vocal and lead the guys in every aspect whether it's in the classroom, on the field, or in middle of a big game. I've got to keep them under control, keep myself under control.
"I'm usually kind of quiet and laid back but I had to take a step up and be a little move vocal. The young guys have stepped up and shown their leadership too. They've really pushed me and pushed each other."
It was particularly rewarding for Creighton to see so many seniors excel on their special day.
"We do some things really special on senior day with senior introductions, a senior dinner last night, and in locker room before game," Creighton said. "It's an intimate deal. I think there was a lot of emotion out here. And I think they had a lot of fun."
The Little Giants are on a fun streak. They are 9-0 and NCAC champs with a playoff spot sewn up. They claimed a 7-0 mark for the third time in seven years of NCAC play. Additionally, Wabash is now 45-9 in conference games over the same period. They've won 13 straight going back to last season.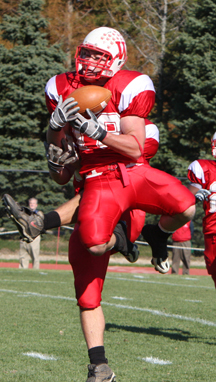 "The hallmark of our program is the commitment to being the best we can be and being a family," Creighton said. "Those are two of the biggest things about our program and when that leads to a championship, it just makes it all the better."
Matt Hudson continued to show he's getting better and better each week. The sophomore quarterback threw for 303 yards on 21-of-25 passes and four touchdowns before turning things over to Kyle Augustinovicz early in the fourth quarter.
Wabash rushed for 130 yards on the day with Brock Graham and Evan Sobecki scoring on short runs. C.P. Porter paced the rushing attack with 78 yards on 10 carries.
Wabash now prepares for the 114th Monon Bell game. The Little Giants travel to DePauw Saturday for a 1:05 kickoff. The game is officially a sell-out.
In photos: Top right, Bart Banach gets the Little Giants rolling with a 13-yard touchdown reception. Top left, Adi Pynenberg records a sack. Center right, Mike Russell hauls in one of his two touchdown catches. Lower left, Peterman's interception.
Photos by Jim Amidon