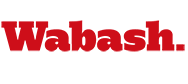 Russian Grandmaster Wows Wabash Chess Enthusiasts
October 31, 2007

A freshman gave chess grandmaster Gregory Kaidanov a stiff challenge in the blindfold match played Tuesday night. Kaidanov made his third visit to Wabash College to demonstrate his amazing chess skills.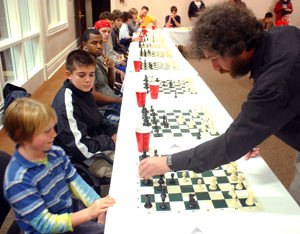 As usual, he opened the evening with a blindfold match. He was pitted against Will Weber '11. While a freshman might not seem like much of a challenge for even a blind-folded grandmaster, Weber held his own and prolonged the match longer than other recent exhibitions. Weber's secret might have been his extensive chess background. He was champion last year of an Indiana High School tournament.
Afterwards, Kaidanov breezed through 30 opponents simultaneously in Detchon Hall.
Kaidanov, who visited Wabash in 2002 and 2005, became a Grandmaster in 1988. The Russian native lives in Lexington, Kentucky, teaches private chess lessons, competes in national and international tournaments, and gives exhibitions across the country similar to what he will do Monday.
The Berdichev (Ukraine) native started playing chess at age six, learning from his father. He and his family visited the U.S. as tourists in 1990 and eventually settled in Kentucky.
He has been an accomplished player most of his life, honors include: Boys under-14 Russian Federation Champion, 1972; Master, 1978, International Master, 1987, Grandmaster, 1988; World Open Champion, 1982, US Open Champion, 1990; tied for first in National Open in 1990, 1992, 1994, 1999; U.S. team member in 1998 World Chess Olympiad; U.S. team member in World Chess Olympiad, 2000.
Kaidanov's appearance is sponsored by the Wabash College Lecture Committee.
Photos by Bachelor photographer Steve Abbott '09.