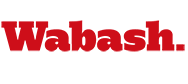 Artist Works in Classroom with Wabash Students
by Howard W. Hewitt

October 30, 2007

Although Joseph Gower is teaching at Wabash for just one year as a Visiting Assistant Professor of Art, he's using his contacts in the art world to enhance students' classroom experience.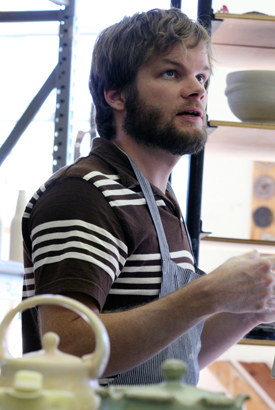 Gower invited friend, and former roommate, Brian Taylor to campus Oct. 29 for a classroom demonstration and brief lecture. Click here to see photos from Monday's classroom demonstration.
"Brian spent the afternoon in the ceramics studio demonstrating his wheel thrown pottery and discussing what inspired him to choose a career as a full time artist," Grower said. "Students were given the opportunity to work right along with Taylor and ask insightful questions that relate to their own studio practice."
Taylor is a renowned potter and currently works as Resident Artist for the Chicago Parks District. Gower first met Taylor when both served as Resident Artists in 2006 at Arrowmont School of Arts and Crafts at Gatlinburg, Tennessee.
Taylor grew up in northern Utah and studied ceramics at Utah State University. He has worked as a studio assistant and Artist in Residence. His pottery has been shown nationally and his works have been featured in national magazines.
He is affiliated with galleries in Kansas City, Mo., Philadelphia, Pa., St. George, Me., and Oak Park, Il. He has had exhibitions across the country.
"With a small art department at Wabash, it is really great to be able to bring someone in like Taylor and have the students interact with him," Gower said. "In many academic institutions students are encouraged to only focus on their artwork and it is often overlooked as how to leave school and make a living as an artist. My job is to teach and then make art, Brian's job is to make art and then sell it."