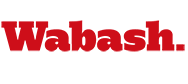 Wabash Claims Playoff Spot, NCAC Share
by Howard W. Hewitt

October 27, 2007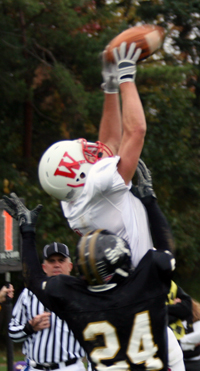 WOOSTER, Ohio – Wabash claimed at least a share Saturday of the NCAC championship with a 21-10 win over Wooster. It's the third consecutive year Wabash (8-0, 6-0) has won or shared the championship. With the win the Little Giants also assured themselves a spot in the NCAA Division III Playoffs.
It was neither easy or pretty on a cold, windy, misty day in northeast Ohio. Wooster (2-6, 2-3) did some unexpected things defensively, while also exploiting the Wabash defense for 236 yards rushing. But two Scot turnovers proved to be the big difference; Wabash converted both into touchdowns. (View photo albums number one, number two, and an album by Clayton Craig '08 from The Bachelor.)
Chad Peterman picked off an Austin Holter pass on the game's first series and returned it 20 yards to the Wooster 19. Just four plays later Brock Graham scored on a two-yard run to stun the Scot's Family Day crowd.
"I think we came out with emotion and it couldn't have gone any better for us in the beginning," Coach Chris Creighton said. "I think often when that happens there might be a little bit of a letdown. We probably thought if we got on them early we might get things to roll but we didn't make them roll. Instead, they just dug down and we maybe let down a little bit emotionally."
Wooster quarterback Holter rushed 19 times for 128 yards and threw for 129 yards, but had two interceptions. Running back Dustin Sheppard ran for 117 on 19 carries.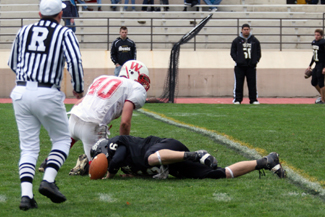 "They did a good job of scheming us," linebacker Adi Pynenberg said. "I think it was a combination of their scheming and us just not doing our job. There were times when they just ran a simple play right up the middle and got 10 yards. As a defense we're better than that. We just can't let that happen.
"And we knew coming into the game we'd have to shut that quarterback down, but he played a really good game."
Wabash extended its first-half lead early in the second quarter with one of its best sustained drives of the season – a 14-play, 92-yard march capped by a leaping Mike Russell 7-yard touchdown catch that made it 14-0.
Wooster came right back with its only first-half points on a 13-play drive that ended with an Andy Milligan 22-yard field goal.
The Scots made things interesting to open the second half by forcing the Little Giants to punt after just four plays. Wooster then went on a 72-yard, 12-play drive that was capped by Holter's four-yard score, 14-10.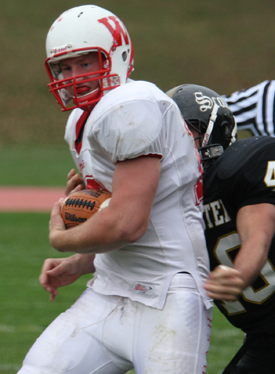 Perhaps the game's big turnaround followed. On Wabash's first play, Steve Custenborder picked off Matt Hudson. Wooster was looking for a chance to take the lead on the unbeaten Little Giants

But on Wooster's second play of the possession, Jared Lange broke through untouched and sacked Holter, causing a fumble that was recovered by Wes Anderson at the Wooster 36.

The Little Giants then padded their lead with a 3:25 drive finished off by a Hudson pass to Gabe Guerrero for 12 yards, 21-10.

Wooster had a chance near the end of the game to make things interesting. A high snap on a Chad Finley punt attempt resulted in a broken play and blocked punt. Wooster took over and moved the ball to the Wabash 6-yard line in 10 plays. But Pynenberg intercepted a deflected pass in the end zone to end Wooster's upset hopes.

"I was just following up on a play, it wasn't my guy to cover," Pynenberg said. "I was just following the ball and Richard Roomes knocked it down. It didn't fall to the ground right away; it bounced off someone's leg or something, then it bounced up in the air and I happened to be in the right place at the right time."

Wooster's 236-yard ground attack was complemented by 129 in the air for 365 total yards. Wabash has 113 yards on the ground and 235 via the pass. Hudson had an efficient day hitting on 22-of 27 for two touchdowns and an interception

Pynenberg notched 13 tackles, 2 sacks and 2.5 tackles for loss, putting five tackles away from breaking the Wabash career record of 400 set by Jim "Killer" Kilbane '84. Peterman had a big day to go with his one interception, making 10 tackles.

A win over Denison Saturday would give Wabash the outright NCAC title.

We really did not talk about playoffs or a championship this week at all we just talked about being 1-0 this week," Creighton said. "But now we're talking about the championship. We want to be the undefeated and undisputed champs and now we have a chance to do that."

In photo at left, Mike Russell hauls in a Matt Hudson pass for a touchdown. On homepage, Jarrod Lange records a sack, forcing a fumble that led to Wabash's third touchdown.

Photo at right - Adi Pynenberg records one of his 3-1/2 tackles for losses with this sack of Austin Holter in the first half. Pynenberg made 13 tackles to lead the Little Giant defense.




Results: Wabash 21, Wooster 10 Game Stats