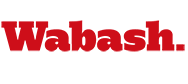 Karenga Delivers Thoughts on Kawaida
by Kim Johnson

October 26, 2007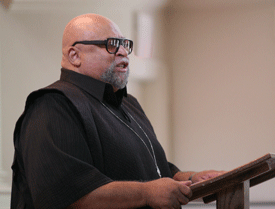 As part of the Consultation on the Interdisciplinary Teaching of the Black Experience this weekend at Wabash College, Dr. Maulana Karenga delivered a lecture entitled: Kawaida, Culture and Critical Ethical Issues: Repairing and Transforming the World. The Consultation is a collaborative effort by the Wabash Center, the Malcolm X Institute, and the Center of Inquiry.
Karenga is a professor of Africana Studies at California State University – Long Beach. He holds two Ph.D.'s, one in political science (United States International University) and another in social ethics (University of Southern California), as well as an honorary doctorate from the University of Durban, South Africa. He is also the author of numerous scholarly articles and books.
Karenga began his remarks by thanking Dr. Tim Lake, Executive Director of the Malcolm X Institute at Wabash College and Ms. Amina McIntyre, Assistant Director for arranging this "historic gathering of African American Scholars." He continued stating it is not enough "to be chosen to bring good into the world, we must choose to do it. The best of what it means to be African is the best of what it means to be human."
He encouraged the African American community to be the moral and social vanguard for the country by following the seven guiding principles of Kawaida. Kawaida is the ongoing synthesis of African thought and practice in constant exchange with the world.
The principles of the Kawaida philosophy are the seven principles celebrated during Kwanzaa, the seven day African American holiday he began in 1966. Those principles are umojoa (unity), kujichagulia (self-determination), ujima (collective work and responsibility), ujamaa (cooperative economics), nia (purpose), kuumba (creativity), and imani (faith).
The Consultation on the Interdisciplinary Teaching of the Black Experience continues through this weekend.