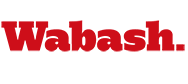 The Books are Dusted, Banners are Hung
by Kim Johnson

October 17, 2007

All that's left now is the party! Wabash is set to honor its faculty's work.

As part of the 175th Anniversary Celebration of Wabash College, the Lilly Library will host "A Celebration of Faculty: 175 Years of Creativity, Research, and Scholarship". The opening reception will be Thursday, October 18 from 6 p.m. to 8 p.m. Drinks and light hors d'oevres will be served and musical entertainment will fill the air as Wabash kicks off an event that honors our past and present faculty's commitment to excellence in works beyond the classroom.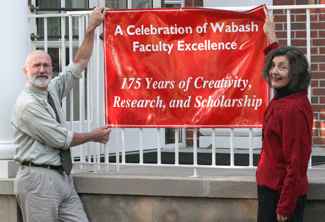 The idea for the celebration was born out of a comment by Dean of the College Gary Phillips regarding how impressed he was by the passion of the faculty for research, scholarship, and creativity outside of their "normal" classroom work. The faculty continuously engaged throughout campus and even the community.
College Librarian John Lamborn said the event is a great way for the library to get involved in the 175th Anniversary of the College without putting an extra burden on the already busy faculty. He sees it as "an opportunity to elevate awareness of the depth and breadth of the expertise of all of the past and present faculty of Wabash College."
The display will consist of four main areas: written work, artistic work, a multi-media presentation and a continuous PowerPoint movie. Much of the display will be open until the middle of February.
Each of the current faculty members had the opportunity to submit one article that best describes his or her work. Those articles will all be on display along with many of the books current and former faculty have published. Along with the written work there will also be faculty historical and contemporary.
Lamborn said the process of gathering all the pieces for the display from articles to books, to art and musical compositions was exciting. "It served to further confirm my impression that the faculty at Wabash are so talented. We are excited to have the opportunity to showcase that to our students, the faculty and staff, the trustees and the community."
The opening reception is free and the entire Wabash community is encouraged to attend.