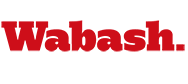 Wabash Celebrates Football Tradition and Teams
by Tom Runge

October 14, 2007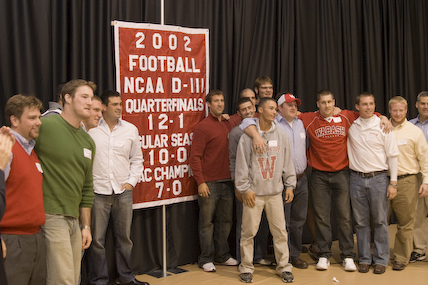 Saturday, October 13, 2007. Members of the Wabash community gathered this evening to celebrate the rich tradition of Wabash football, with special emphasis on the teams of 1977, 1982, and 2002. The event came on the heels of a hard-fought victory over conference rival Wittenberg University.
Emcee Jim Amidon '87, director of Wabash's Public Affairs and Marketing operations and long-time Sports Information director, introduced President Pat White for a pre-dinner welcome. Head football coach Chris Creighton offered the invocation.
After dinner Amidon welcomed members of the 1977, 1982, and 2002 teams to the microphone to share their memories of their legendary seasons.
Tom Dyer '78 and Bill Cannon '79 shared their thoughts on the 1977 team that ended up playing for the national championship in the Stagg Bowl. Cannon and Dyer both mentioned the importance of good friends and team mates-friends, they said, for life. When an injury ended Dyer's senior season in the second game, he was thrilled to see the play of those who filled his starting role.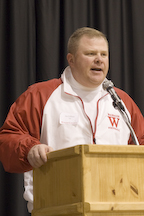 Jim "Killer" Kilbane '84 and David Hayhurst '83 talked of the 1982 undefeated, untied team who ended up sixth in the nation but somehow was not invited to play in the post season. The 1982 guys started the season with a tremendous 14-13 victory over the University of Dayton. Kilbane talked of the importance of the senior leadership on that team while Hayhurst focused on the key roles that starters and substitutes alike played. He mentioned the look in the eyes of the Dayton defender - something he said he will never forget.
Jake Knott '03 and Nate Boulais '03 reflected on the special feeling the 2002 team had - from little things like personal bests lifting weights to team play in big games. They also honored the 1977 and 1982 teams as they stated one of their team's goals was to get "the swagger back" from those earlier football teams. Boulais also demonstrated the "pony dance" - something team members used as a way of celebrating! (see the photo album!)
Head Coach Chris Creighton then talked about the continuing impact of these special teams have had on his program and on the current team. He mentioned the importance his guys place on continuing to represent the College the way the great teams have done.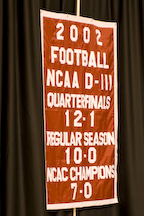 To conclude the program, President White, Coach Creighton, and several members of the 2002 team unveiled a banner honoring the 2002 team's outstanding season. The banner will hang in Chadwick Court next to similar ones honoring the 1977 and 1982 teams.
It was, in every way, a special day for Wabash football!
Photos:
Top:  Members of the 2002 team pose near the banner honoring their team.
Right above: Hall of Fame member Jim Kilbane '84 reflects on the 1982 season.
Left: The banner.
For more photos, click here.