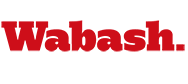 Wabash Stays Unbeaten, Knocks Off Witt
by Howard W. Hewitt

October 13, 2007

It's become a mid-season classic between the NCAC's two powerhouses – Wabash and Wittenberg. The 14th-ranked Little Giants (6-0, 4-0) won their fourth straight home game against the Tigers Saturday when the defense held off Wittenberg's game-tying effort in the final moments, 24-17.

"No one is getting any trophies and nobody is printing any t-shirts," Coach Chris Creighton told his team after the game. Indeed, it's a mid-season game but the winner of the Witt-Wabash goes a long way toward determining the NCAC Champion and a post-season berth.

Wittenberg falls to 4-2 and 2-1 in NCAC play. The two teams tied for the championship last year. Either Wabash or Wittenberg has won the conference title in eight of the last 10 seasons. Wabash controls its post-season fate with home games against Oberlin, Denison, and a long road trip to Wooster. See three photo albums, No. 1, No. 2, No. 3. (All photos by Jim Amidon, Copyright Wabash College 2007.)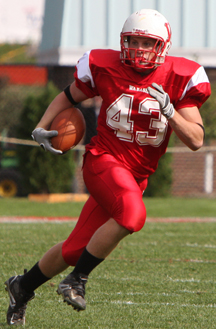 "Today is really big for us. It's such a big win all-around team wise," said senior Brock Graham. "But we're going to make sure we celebrate this win knowing we have another game next week. So its back to work on Monday but this is a great win for us."
Graham has somewhat quietly been the offensive workhorse all year for the Little Giants. He caught 7 passes for 69 yards Saturday and rushed 5 times for 7 yards. But of those seven yards one was for a first down and another was the winning touchdown.
Graham ran the ball in from a yard out with 11 minutes to play on a fourth down to give the Little Giants a 24-10 edge. But Witt responded with a 12-play, 74-yard drive to pull within a touchdown with 5:37 left.
The Little Giants recovered an onside kick and benefited from an unsportsmanlike conduct call against the Tigers to take over on Wittenberg's 47. Wabash appeared poised run out the clock but a fumble at the Witt 25 with 1:17 to go gave the Tigers a last chance.
"To be honest, I know what was going on in my head," said defensive back Richard Roomes of the last minute of play. "We've grown up together in this program. We've cultivated this kind of atmosphere that when bad stuff happens that's when our best comes out.
"I mean we were upset the offense had a bad play but we were happy we got another chance to go out there. In all honesty, we felt we had to pay back the offense for last year when we let it slip through our fingers."
Wittenberg quarterback Aaron Huffman hit Patrick Williams for a 48-yard gain to put every fan on the edge of their seats in Little Giant Stadium. The Tigers were in business on the Wabash 27-yardline.
But two penalties and three incomplete passes set up a dramatic fourth-down pass that was dropped to secure the Wabash win.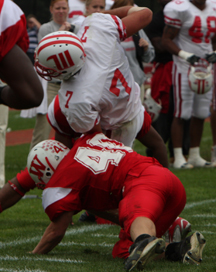 The defense's gutsy stand, coupled with holding Wittenberg to three points on its first two drives deep into Wabash territory, was the game's highlight.
"I think because of the commitment these guys make to this football program, you know the "Wabash Always Fights" thing and the commitment they make getting up in the morning, the intimacy and really caring about each other – that stuff matters when you have to dig down deep when your backs are to the goal line," Creighton said.
After the defense held on those two early possessions, the Little Giant offense showed the quick strike capability missing in recent weeks.
Wabash got on the board in just three plays and 29 seconds when sophomore quarterback Matt Hudson found Ray Green on a 54-yard strike, 7-3. After a Wittenberg three and out, Hudson found Mike Russell for 17 and 12 yards with two C.P. Porter runs sandwiched in between for 20 more.
Then the Little Giants showed a little trickery when Evan Sobecki threw his first pass of the season for 21 yards to an open Gabe Guerrero in the back of the end zone, 14-3.
Sobecki had thrown one halfback pass in his Penn High School days, but laughed that one was intercepted.
"I saw Gabe got a good release and I just put it up for him," the sophomore tailback said. "He did the rest of the work and made a heck of a play on it."
Sobecki led the ground attack with 48 yards with Porter adding 47. Eight different Little Giants caught passes, led by Mike Russell's 9 receptions for 110 yards.
The senior wide receiver, who started the season battling injuries, enjoyed his best game of the year.
"It's great to be back," Russell said. "The guys are always awesome but to be able to get out there and play my best ball, and definitely against Witt, it's good again."
Russell also remembered last season's tough 19-17 Wittenberg come-from-behind win and offered up his own redemption. "Last year I left two interceptions on the field that were my fault," he said. "I definitely felt like I needed to pay the team back. I took a lot of responsibility for last year and it feels good to get that off my chest."
Quarterback Matt Hudson enjoyed his finest day hitting on 23-of-34 passes for 293 yards and the one touchdown. The game was largely a statistical dead heat. Wabash netted 398 total yards while Witt picked up 328. The Little Giants gained 110 on the ground to the Tigers' 94.
Defensively, Adi Pynenberg continues to stuff the stat sheet and move up in the record books. He had 17 tackles Saturday; two of those were tackles for loss. Linebacker running mate Andy Deig added 10 stops with Chad Peterman recording 8 tackles.
In photos: Top left, Graham runs after a catch. Lower right, Pynenberg with the hit on Witt quarterback Huffman. On homepage, Graham scores the game-winning touchdown.