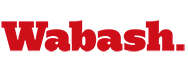 Evansville Association Welcomes the Whites
by Tom Runge

October 10, 2007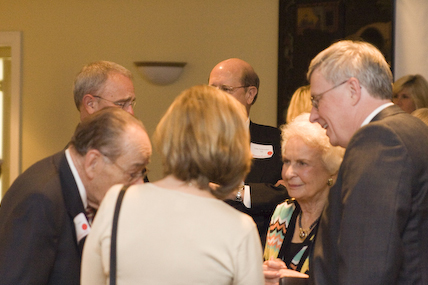 A great crowd gathered at the Evansville Country Club to welcome President Pat White and his wife Chris to the Evansville area. The crowd was the largest anyone could recall for a Wabash event in the area, especially on a week night.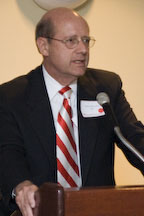 John C. Schroeder '69 served as the emcee and offered an invocation before dinner. After dinner John introduced President White for a few remarks. President White thanked the Schroeder families for being such staunch supporters of Wabash, especially for their interest in upgrading every facet of Wabash's career services. The president then briefly covered the many good things happening at the Schroeder Center for Career Development, led by director Scott Crawford and his assistant Betsy Knott.  White also covered the great fall the College is enjoying and reported the Strategic Planning process is well underway.
President White lauded the local group for their community service, especially their
W.A.B.A.S.H. Day efforts.  He thanked Thom Liffick '73 for his leadership of the projects.
Many thanks go to John H. Schroeder '42 and his wife Virginia and also to John C. Schroeder '69 and his wife Diane for hosting the event.
Top photo:  President and Mrs. White talk with John H. Schroeder '42 and his wife Ginny before the dinner.
Photo right:  Trustee John C. Schroeder '69 introduces President White.
For more photos, click here.