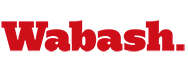 South Bend
by Peter Horvath '92

October 9, 2007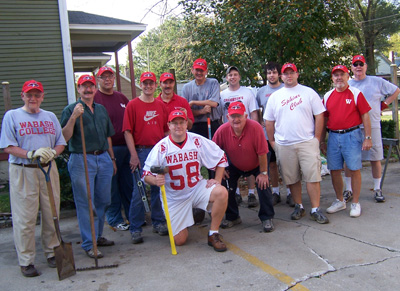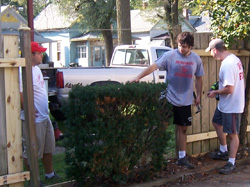 The St. Joseph Valley Association of Wabash Men (South Bend) spent the Third Annual Wabash Day of Service, Saturday, October 6, at the Families First Center in South Bend where member Peter Trybula serves as president of the board of directors.
Fourteen Wabash men donated their time, talents and tools to install textured adhesive to the handicap-access ramp, spread landscape rock around the facility, install 12 concrete parking bumpers, and repair and install 10 sections of fence.
Front Row: Peter Horvath, George Horvath. Back Row: Dick Barger, Dick Currey, Roland Morin, John Mynsberge, Peter Trybula, Paul Tipps, Francis Raycroft, Maury Raycroft, Mike Arnold, Roger Senkbeil, Carl Horneman. Not Pictured: Michael Matsey.