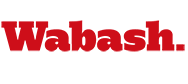 Colorado
by John Panozzo '89

October 9, 2007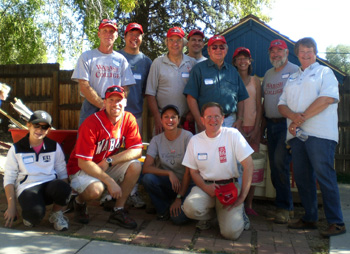 Another successful Wabash Day in Colorado.
Alumni members and friends from the CAWM met once again at the Karlis Family Center in Lakewood.
We continued to build upon our previous Wabash Day projects focusing on landscaping needs around the Center.
This year we put down concrete pavers and decorative mulch around play areas that were described as "mud holes" every spring. We also planted more flowers and donated a birdbath.
The group enjoyed a wonderful morning followed by a cookout/picnic at a nearby park afterwards. Toni Haptonstall, the site director at Karlis Center took a moment to address the group.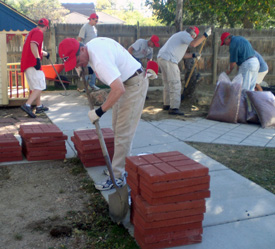 She commented on how much they appreciate the beautification efforts around their grounds the past three years. The Karlis Family Center is a resource center for families affected by domestic violence.
The Center offers safe exchanges of children, supervised parenting time, domestic violence support groups and counseling seven days a week. Their mission is to help people overcome child abuse, domestic violence and homelessness to become safe, strong and self-reliant.
According to Ms. Haptonstall, "Giving the kids a clean, safe and fun place to play outdoors makes our job that much easier in relieving stress from the parents and site supervisors."