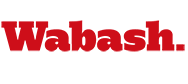 Washington D.C.
by Jonathan Dilley '03

October 9, 2007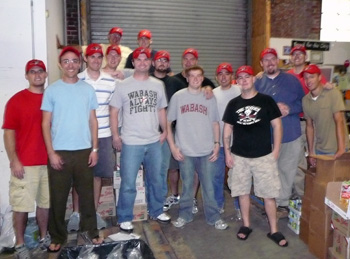 We had an amazing WABASH DAY.
The National Capital Association of Wabash Men volunteered in the food pantry at Bread for the City (BFTC). Since 1974, BFTC (http://www.breadforthecity.org) has been providing vulnerable residents of Washington, D.C., with comprehensive services (i.e., food, clothing, medical care, legal and social services). BFTC services 11,000 residents each month for free.
I couldn't even begin to guess how many food relief packages we made that morning. As we were informed, we accomplished in a few hours what it takes BFTC's daily volunteers at least a week to do! In fact, they ran out of room in their storage space and we ended up filling three flights of stairs with food packages.
I have to give the credit to our great turnout. Fifteen guys -- from '72 to '07 -- participated in Saturday's WABASH DAY here in Washington. Those attending included: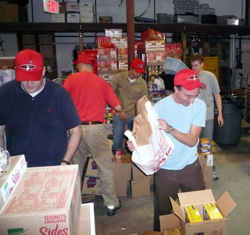 John Deschner '97
Josh Blard '97
Matt Warner '01
Norberto Salinas '97
Adam Price '88
Terry Archambeault '05
Karim Belayachi '04
Ryan Clougherdy '02
Jefferson Crew '05
Dane Musil '05
John Bordenkecher '96
Hayden Wetzel '72
Chris Alexander '02
Jonathan Dilley '03
Allen Chatt '07