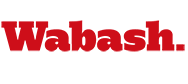 Indianapolis - Irvington
by Patrick McAlister '10

October 8, 2007

David Johnson '04 had one very good reason to give back to the greater Indianapolis community. "Jon Pactor said so," Johnson chuckled.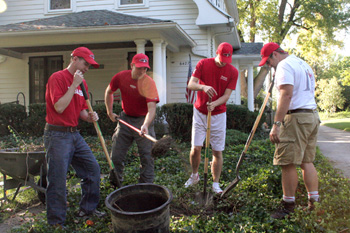 Johnson, who was comically referencing the 1971 Wabash graduate and Wabash Day chairman, served as the team captain for a group of 8 Wabash men who planted trees as a part of the national celebration of Wabash Day. The group of men met on Arlington Avenue in the historic Irvington Neighborhood on the east side of Indianapolis. Johnson set the event up through the Keep Indianapolis Beautiful program.
See Indianapolis - Irvington Project Photo Album here.
Johnson said the process of setting up the project was pretty simple. Keep Indianapolis Beautiful brought the trees, tools, mulch and education on how to properly plant a tree.
"This was really easy," Johnson said. "Keep Indianapolis Beautiful has projects for virtually every weekend."
Most of the men participating saw the simple act of planting a tree a great way of giving back to the city they call home.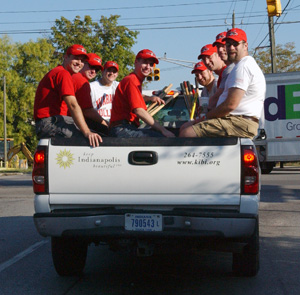 "I saw today as a way to continue everything we learned at Wabash about being philanthropic and taking care of the community – all of your neighbors," said Eric Borgert '97.
"I think it's important for us to be out in the community," said Wabash Day veteran David Waldman '93. "I think it's important for us to be out practicing what we preach. It's about being a good citizen, giving something back and doing something for the college – you can kill a bunch of birds with one stone."
Unlike Waldman, some alumni have not had the opportunity to participate in Wabash Day. Kyle Coffey '06 is one such Wallie. Even as a first time participant, Coffey quickly realized the significance of the day.
"We definitely need to give back to our community," Coffey said. "We had a privilege to go to a fine institution and our communities gave us a lot of money and support to go there. This is just three or four hours of our time on an off day. It's an opportunity for us to give back and show our appreciation for what was given to us."
Third year IU law student Seth Zirkle '04 clearly articulated many of the points alumni had said throughout their experience.
"It's a great opportunity for recent graduates to interact with older graduates," he said, "not only to service the community but also to talk about and compare stories of other Wabash experiences. This is a great opportunity for old and young alike to interact and give back something from a college that gave them so much."
Jacob Pactor '04, son of whom he calls "THE Ubiquitous Jon Pactor", was able to put the day into perspective as only the son of the chairman of Wabash Day could.
"We sometimes think of Wabash as a tiny campus in Crawfordsville, Indiana," he said. "But there are 32 Wabash Day sites of these across the nation. You say you go to Wabash, but Wabash is everywhere."


Pactor also had a vision of where Wabash Day should spread more readily – to the students on campus. "I think it would be awesome if this was done more on campus as well," he said. "Maybe as a part of Homecoming week or Pan Hel – everyone plants a tree."