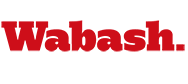 Crawfordsville
by Mike Warren '93

October 6, 2007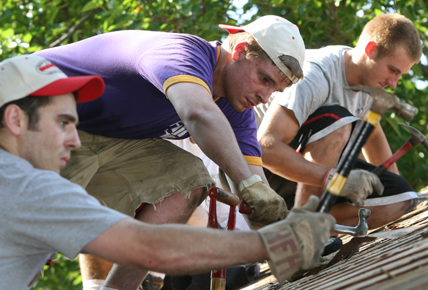 The nearly 50 Wabash Day volunteers (alumni and students) in Crawfordsville split up to cover 5 different projects around Montgomery County.
Herm Haffner '77 took several students from the Phi Gam, Beta, and Sigma Chi houses to work on a Habitat for Humanity project in Linden. (Photo at right) Herm had workers cover the morning and afternoon shifts to complete the days work.
Greg Redding '88 and Mike Swift '77 were joined by members of the TKE fraternity to help out the Animal Welfare League of Montgomery County. They did a range of things for the shelter staff including work around the grounds and cleaning inside the building.
More members of the Beta Theta Pi fraternity completed a project for the Crawfordsville Park and Rec Department. They spent part of the morning weatherproofing a wooden walking bridge along the Rails to Trails path used by hundreds of runners, walkers, and bikers throughout the year.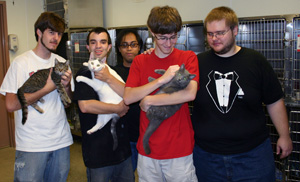 Gary Isenberg '79, Greg Miller '83, Mike Warren '93, Eric Verduin '93, Collin Lanam '06, and Robert Boarman '08 (Student Senate VP) spent the morning working at Camp Rotary just South of Crawfordsville. Gary and Greg worked with a local junior high student who was organizing and completing a project at the camp to earn his Eagle Scout badge. The others helped Dr. Richard Walker (Crawfordsville Rotary Club) with other work around the camp including painting the large shelter roof and brush removal around several trees.
The final project was orchestrated by Grant Tharp, former member of the admissions staff, who performed yard and landscape work at the home of Crawfordsville woman. Joining Grant for this project were member s of the Wabash basketball team.
Click here and here for photos from two Montgomery County projects.