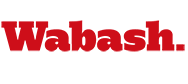 Newest Faculty Members' Interests Go Beyond Classroom
by Howard W. Hewitt

October 1, 2007

Five tenure-track professors joined the Wabash Faculty this fall with not just a wide range of academic credentials but other intellectual and personal pursuits.

Paul Vasquez, a Georgia native, arrived from Notre Dame to join the Political Science Department. He isn't just an expert in foreign relations through his intellectual pursuits because he spent time in the United States Army and traveled the world. He has studied democracies with draft policies and volunteer armies.

Elizabeth Morton, who grew up in Columbus, Ohio, has joined the Art Department as an Assistant Professor of Art History. She initially pursued a career in pre-medicine but fell in love with art history in the early 1990s. She has traveled the world, studied abroad, and worked with artists in Zimbabwe.

Isabel Jaen-Portillo has made a life and career with a fascination of different languages and culture. The Madrid, Spain, native has joined the Modern Language Department as a Professor of Spanish. She has studied in London and Spain and enjoys history.

Karen Gunther is an Assistant Professor of Psychology and California native. But the classroom isn't her only interest. She also is a quilter, scientist, and a musician. She earned her undergraduate degree at Oberlin College. Her graduate and doctoral studies have related to imagery and science.

Patrick Burton, who grew up near Buffalo, New York, isn't just an Assistant Professor of Biology. He has immersed himself into the subject of evolution. He has collected numerous books on the subject. He's also a big fan of wine.