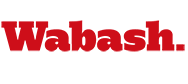 Little Giants Romp to Homecoming Win
by Howard W. Hewitt

September 29, 2007

The Little Giants had nine different players put points on the board in a 54-20 Homecoming romp over NCAC foe Earlham. Wabash (4-0, 2-0) scored three rushing touchdowns, four through the air and one on special teams.

The Little Giants blew the game open with a 27-point second quarter for a 33-7 halftime lead. Earlham (0-4, 0-1) controlled the clock for most of the first half but couldn't penetrate the Wabash defense which spent most of the afternoon in the Quaker backfield with 14 tackles for a loss. See photo album No. 1, No. 2.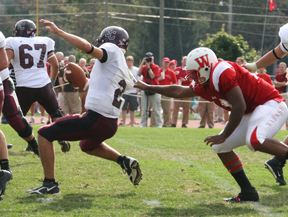 The sack leader was junior Darryl Kennon who got to Earlham quarterbacks four times, just a half sack shy of the Wabash record.
"With Chad Peterman and those guys in the defensive backfield there's no one to throw it to which gives us extra time," the Arizona native said. "It gives us like 4-5 seconds and today we had like 7-8 seconds every time. And when you have that much time to get to the quarterback, you can make a couple of moves and do your thing."
Kennon added five tackles for a loss of 32 yards.
"Every time I looked up he was in their backfield," Coach Chris Creighton said. "We were complaining about him getting held and they were having a tough time blocking him. Darryl is good. The thing about our D-line is there is not a weak link, so it's very difficult to try to double somebody or try to take somebody out. I think Darryl Kennon is just very difficult to single block and our other guys make it difficult to spend too much time on Darryl."
Wabash got on the board first with an Evan Sobecki two-yard run, but Earlham took a lead early in the second quarter when Randy kerns hit Kyle Ripperger from nine-yards out, 7-6.
The Little Giants then effectively blew the game open. Wabash first responded with a four-play, 42-yard drive with Bobby Kimp picking up 25 yards on the score. Wabash scored quickly the next time it had the ball as well in just 41 seconds on a Brock Graham four-yard run. Then casting time of possession aside, used just three plays to cover 63 yards on a Matt Hudson to Gabe Guerrero 49-yard pass play, 26-7.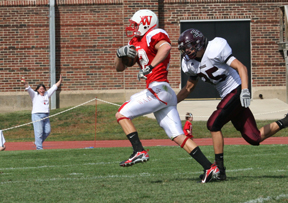 A blocked punt closed out first half in part thanks to an11-yard Kennon sack on second down. The center of the Wabash line penetrated for the block and the ball bounced into Chris Schweigel's hands.
"The front line got a lot of pressure and I was actually late," the Sheridan High School graduate said. "I have to give the credit to those guys. I just cleaned up, luckily the ball bounced right into my hands and I just took off. I was kind of in shock."
The special teams block pleased Creighton but a Quaker surprise later mitigated his satisfaction. "We blocked a punt but we gave up a punt fake, so in some ways those things cancel each other out," the coach said. "I think we punted twice and it wasn't a great punt. The blocked punt was a special play, but another time we had 10 guys out on the field and that stuff just can't happen."
Earlham picked up two second-half scores but Wabash would find the end zone three more times as well. Matt Hudson hit Bart Banach for a nine-yard touchdown then Kyle Augustinovicz found Ray Green from 40 and Wes Chamblee for a nine-yard score.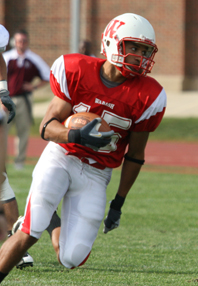 Wabash entered the game planning to rotate the sophomore quarterbacks every two series. On Augustinovicz' first series he tossed an interception. "During the game, I just thought Matt was giving us the best chance to be successful," Creighton said of his two young quarterbacks.

The two combined to hit 23-of-30 passes for 323 yards and four touchdowns. The Little Giants added 108 yards on the ground with freshman C.P. Porter gaining 41, Kimp adding 20, and Sobecki picking up 20.

Mike Russell had 7 catches for 65 yards, mostly in the first half. Andrew Rode had three catches for 94 yards. Guerrero had 49 and Ray Green added 40 receiving yards. Eleven different receivers caught the ball against Earlham.

Kennon was no one-man show. Andy Deig had 11 tackles and one sack. Rich Lehmann had 10 stops. Wabash continued to be tough on opposing quarterbacks getting to the passer seven times for 47 lost yards.

Wabash will make its longest trip of the season next weekend to Allegheny College (3-1) in Meadville, Pa.

HOMECOMING

The Phi Psi's were the big winners in Homecoming competitions. Delta Tau Delta took second place honors.

In photos: Top, Kennon gets one of his four sacks. Middle, Schweigel scoops up the blocked punt for a score. Bottom, Ray Green on his touchdown run.




Results: Wabash 54, Earlham 20