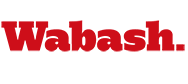 Wabash Notches Shutout NCAC Win
by Howard Hewitt

September 22, 2007

DELAWARE, OH. – Wabash College's defense twice shut down Ohio Wesleyan (0-3) inside its own 10-yard line and registered its first shutout since 2005 over Denison. The Little Giants posted a 15-0 win in the North Coast Athletic Conference opener.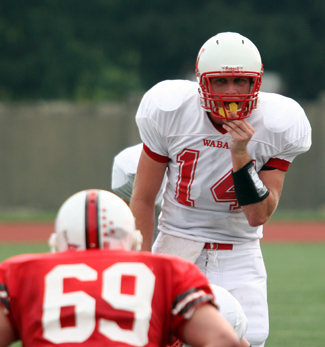 Sophomore quarterback Matt Hudson came in after one series in the second half and threw for 9-of-12, 90 yards, and two touchdowns. Kyle Augustinovicz started for the second week but struggled hitting 9-of-19 and two interceptions. See photo albums from the game, No. 1, No. 2.
"I was happy for Kyle," Hudson said. "I knew he could go out there and get the job done. I was a little disappointed to see how things went in the first half. I went in at halftime knowing if we didn't get something going in the first one or two drives I might have to come in and lead this team."
The Little Giant defense was again the story for Wabash (3-0). All-American linebacker Adi Pynenberg was sensational with a career-best 21 tackles. Andy Deig and Rich Lehman added nine stops apiece. (View photos from the game by Steve Abbott of The Bachelor) and more photos from OWU.
"It was a game of two halves," head coach Chris Creighton said. "Our defense bent some trying to figure out a very difficult offense to prepare for. Our defense responded and did not allow them a single point. Our defense never got a breath of fresh air. Our defense was out there a long time and we didn't give them much help offensively."
Neither team could score in the first half. OSU had two missed field goal attempts, one hitting the upright and the other failed on a bad snap.
Wabash couldn't do much when given the opportunities, collecting just four first-half first downs to OWU's 11. The Bishops had outrushed Wabash 92-32.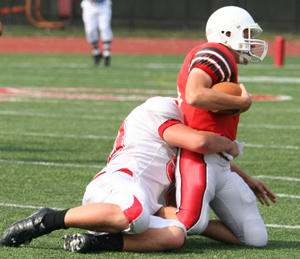 Chad Finley had another outstanding day punting, nailing six kicks for a 44.8 average. His first punt of the second half pinned OWU on its own two-yard line. Josh Gangloff burst through the line on the first play and sacked quarterback Mike Fisher for a safety and the game's first score.

"We had a hard time figuring out what they were doing," linebacker Deig said. "They're a very complicated offense and with a week off they came out with some new formations that we weren't ready for.

"The second half we adjusted and came out ready to play."

Augstivonicz returned for the first series but was replaced by Hudson the next time the Little Giants had the ball. Hudson led Wabash down a short field of 39 yards hitting Chad Sorenson for a six-yard touchdown, but the kick failed, making it 8-0.

"We really picked it up in the second half," Hudson said. "The offensive line really started moving guys around. We ran the ball much more effectively in the second half.

"Overall I'm very happy with this. To come in here and get my first real varsity action, I'm just really excited to come away with a win."

The Little Giants added another score early in the fourth quarter on a nice 14-play drive over 75 yards. Hudson hit a right flat pass to Brock Graham for a 13-yard score. Graham fought the last five yards with a tackler hanging on him for the game's final score.

Despite the Little Giants' better offensive output in the second half, OWU rolled up 319 total yards to Wabash's 252. Evan Sobecki rushed 16 times for 61 yards. Graham added 28 and Bobby Kimp 23 yards rushing.

Seven Wabash receivers caught balls in the game. Andrew Rode had six catches for 36 yards but the day's longest catch was Bart Banach's 29-yard reception. Senior Mike Russell caught four passes for 41 yards after missing most of the first two games of the year with a foot injury.

The Little Giants are back home Saturday to host Earlham for Homecoming.

In Photos: Upper right, Hudson barks out signals in the second half. Lower left, Seth Tichenor records a sack.




Results: Wabash 15, Ohio Wesleyan 0 Game Stats