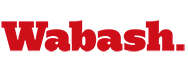 Washington Group Welcomes the Whites
by Tom Runge

September 20, 2007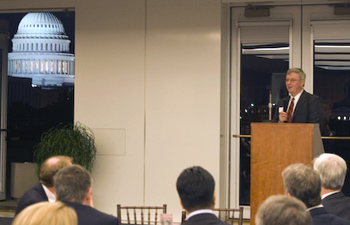 The law firm of Jones Day was the site of yet another tremendous Wabash evening Sept 19 as the National Capital Association of Wabash Men welcomed President Pat White and his lovely wife Chris to the area.
The group gathered on the roof deck at Jones Day before dinner, taking in the beautiful view of the Capitol building on a nearly perfect fall evening.
Jefferson Crew '05, the president of the area regional association, served as the evening's emcee. Greg Castanias '87, welcomed the group to his firm and also outlined the major cause of the evening, supporting the Jim Graham '65 Externship Program. Jefferson introduced President White for his remarks after dinner.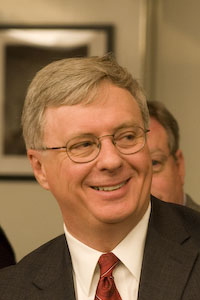 President White updated the group on the start of his "sophomore" year and outlined his vision for the strategic planning process underway at Wabash. Pat noted that our fall enrollment is the largest on record. It was readily apparent to all who attended that Pat and Chris have truly embraced the Wabash community.
Jim Graham was one of the founding members of the regional association and, by all accounts, the spark plug for its growth. Today the group ranks as one of the most engaged and active of all Wabash regional associations. The group decided to name the Externship program for Jim Graham as a lasting tribute to all Jim did for Wabash in the area. When we think of Jim we also think of his lovely wife Lani who shared Jim with us and who is today a staunch supporter of the Externship program.
Many thanks go out to Greg and Jane Castanias. Greg and Jane hosted the event and wonderful dinner. This allowed the entire group to focus on supporting the Graham Externship Fund. Thanks as well to Jefferson Crew and the other area leaders for their efforts to bring out a nice crowd for the event. A good time was indeed had by all.
Photo: Top-President Whites talks to the group at the capitol building appears to be right in the doorway. Right - President White
For more photos, click here.