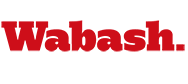 Record Enrollment Kicks Off 175th Year
September 4, 2007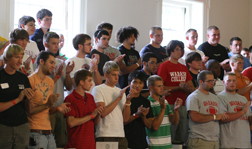 Wabash College begins celebration of its 175th year this fall with an all-time record enrollment of 917 men, the largest number of students since 2002 when enrollment was 912 at the start of the fall term.
The high enrollment is due to several factors, including consistently large and stable freshman classes and increasingly high retention from the freshman to sophomore year. This year, the Admissions Office recruited exactly 250 freshmen and two transfers, and nearly 90 percent of the Class of 2010 returned for its sophomore year.
Wabash President Pat White says that young men are attracted to the College because they are taken seriously here.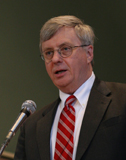 "Young men all across the country see in the Wabash mission to help them to think critically, act responsibly, lead effectively and live humanely, that here is a college that will take them seriously and ask them to achieve more than they thought possible," said White. "Our retention remains strong because Wabash men on campus see that the College delivers on the promise of its mission and they see the transformation in their own lives."
Wabash has also received high praise in surveys such as the National Survey of Student Engagement and The Princeton Review's "Best 366 Colleges" guide. Wabash students annually rank in the 90th percentile in the level of their engagement and interaction with faculty, according to NSSE. In addition to giving Wabash scores of 98 for academics and 99 for financial aid, The Princeton Review ranked Wabash second nationally in its "Best Classroom Experience" category, seventh in "Professors Make Themselves Accessible," and eighth in "Professors Get High Marks."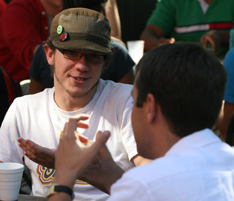 "We work well together because we are focused on teaching and learning," President White said of the collaborative nature of the College community. "Every person on campus recognizes a role in helping the development of these young men. The students are at the center, and teaching and learning, wherever they happen — inside the classroom, outside the classroom, at work, in casual interaction with faculty and staff — are at the heart of Wabash. We work well together because we never lose sight of our focus."
The College's alumni are to be credited, as well. Wabash is coming off an Annual Fund year in which it raised more than $2.7 million in student support from alumni, parents, and friends. The College's endowment has reached an all-time high of $380 million, which officials say allows Wabash to continue its historic tradition of generous scholarship and financial aid programs.
All of this provides Wabash a position of strength from which it will mount a yearlong strategic planning process beginning this month. President White kicked off the Sphinx Club Chapel Talk series by outlining the planning process.
"As Wabash celebrates it 175th year we continue to respond to the wants of the country as the founders noted," said President White. "We celebrate the past by looking to the future from a position of great strength, with our highest enrollment ever, faculty and staff, alumni and friends committed to the mission of the College, and students ready to work hard to achieve their best imagination of all they can accomplish."