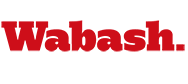 Wabash Freshmen Continue Tradition of Service
by Gary James '10

August 21, 2007

Despite heavy rain and muggy atmosphere, the new freshmen class Monday continued the tradition of community service that has marked so many classes before it. They were separated into 20 groups and sent to various sites to assist local community organizations by performing tasks for them.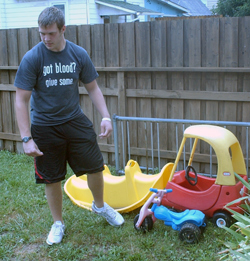 Churches, museums, schools, and other organizations were given free reign over the young men for almost four hours. Whatever they were asked to do, the new class did and did so proudly. The willingness of the young men to help their fellowmen demonstrated their understanding of the importance of service to others.
At the Capstone House of the First Church of the Nazarene, the twelve young men were asked to paint the dining room walls, to paint the living room floor, and to finish a wall that had already been partially erected.
The Capstone House serves as the headquarters for youth outreach for the First Church of the Nazarene. Pastor Mike Uhl '76 believes a more attractive building will help get the Church's message out, and he appreciates the work students were doing for his cause.
"The church has been here since 1920 and I've been pastor since 1999," Uhl said. "We're going to get stuff done that normally wouldn't get done."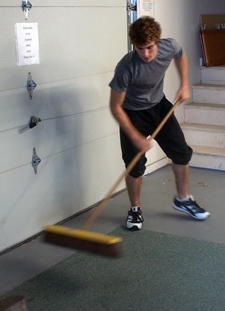 "This means a whole lot," said Mr. Jack Thompson, who assists Pastor Uhl. "It's not just for our teens at church. They get other kids and bring them here to come to church so they can hear about the gospel. It is an outreach for our church. We're trying to make it more attractive and more inviting, and that's what Wabash students are doing today."
Tanner Coggins, Tulsa, Oklahoma, assisted three others in painting the dining area. Although it was his first time painting as a way to assist the community, he understood how important it was to help any way one could.
"I started volunteering in high school," Coggins said. "I helped out at daycare. I worked with three and four year olds. I met a guy named Ian who was three years old and had a rough life, and it ignited something in me. It means something to help people out."
Sentiments ran similarly at other sites, like the Carnegie Museum and Vanity Theatre.
At the Carnegie, Curator Kat Burkhart put the 12 men she had at her disposal to work by assembling storage cabinets, vacuuming the carpet, cleaning display cases, and hanging artifacts.
"It's helpful for us to get some work done because we are so short-staffed," Burkhart said. "We also informed students about the history and importance of our county by showing them our highlights in the Montgomery County Wow gallery."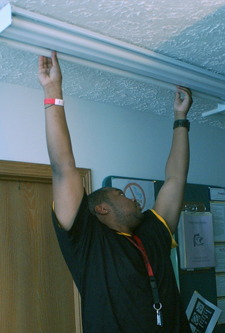 The students who helped at the Carnegie Museum understood their responsibilities to community.
Jake Randall, Marion, Indiana did peer tutoring with middle school students.
Dominique Thomas, Moss Point, Mississippi, believes it is a good thing to help people for the good of it and not for receiving anything in return.
Down the street at Vanity Theatre, Dr. Frank Howland, Bryce Chitwood '08, and ten freshmen assisted Bill Hepburn, president of the Sugar Creek Players, the group that own the theatre. Hepburn's organization just received the right to use additional space near the property. Hepburn had the students clear the brick and soot around the hole that remained from the busting of the brick wall that separated the theater from the new space. The intention for the new space is to make it a rehearsal room with a stage. The pieces of the stage were donated by Purdue. The labor to actually make it work was thanks to Wabash.
"You guys have saved us many, many hours," said Don Blair, a set builder for the theatre. "Bill and I would have taken much, much longer to do this without their help."
"It's fun to help out your community," said Andrew Sparks. "I have been around Crawfordsville since I was born, so it's good to give back."
Freshman Walter Fernandez agreed. "I think it's a good thing we're doing," he said. "And [we're] making good use of time. Some people would not be able to do this by themselves. There are some rough jobs here but it's alright."
Wabash men and others gave of themselves Monday in keeping with the tradition and mission of the college. In addition to the worksites mentioned, freshmen worked at the Old Jail Museum, Hose Elementary, Hoover School, Family Crisis Center, Lew Wallace Study, Boys and Girls Club, and others.
Photos: Top left, Zach Brock, St. Joe Mi., organizes the toys at the Family Crisis Center. Center, Russ Winfrey, Crawfordsville, sweeps up at Family Crisis Center. Lower left, also at the FCC Brandon Jones, Indianapolis, replaces light bulbs. Photos by Elijah Sanders