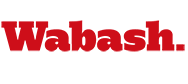 President White Rings In 255 Men to Class of 2011
by Howard Hewitt

August 18, 2007

The Wabash College Class of 2011 arrived Saturday, 255 strong, embracing the Freshman Saturday traditions of the 175-year-old College. The men come from 23 states and nine foreign countries.

On an unusually mild day for an August Freshman Saturday in the College Chapel, the new class was welcomed by alumni leader Jon Pactor, Dean of Admissions Steve Klein, and President Patrick White.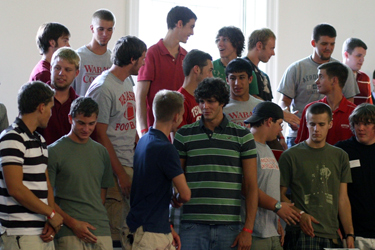 Klein told the 255 men they were part of an historic year. The College received 1,450 applicants, most in Wabash history.
"Over 20 percent of the class, 56 of you, enter this Pioneer Chapel following the footsteps of other Wabash men in your family," Klein said. "Twenty-two of you have fathers who are Wabash men… and 20 of you have brothers who are alumni."
President Patrick White, in his second year, rang Caleb Mills' school bell at the end of the ceremony and maintained one of Wabash's oldest traditions "ringing in" the new class. Those young men will not hear the school bell again until graduation day in May 2011.
Even though the day is one of orientation, meeting roommates and new friends, the highlight is always the ringing in. It's a time to begin College life and celebrate the uniqueness each of the 255 young men bring to Wabash College.
Klein talked about the diversity of the new men on campus. "This year's freshman class includes 22 delegates to Boys State; 13 Eagle Scouts; a civil air patrol squad leader; a wrestler with a quick pin record of 10 seconds; an internationally recognized Irish dancer; a medical researcher; a sea turtle field worker; the youngest elected official in Indiana; a nationally ranked chess player; a robotics team mentor; a bagpiper; an author of a series of vampires stories; a stand up comedian; a traveler and student of the Panamanian rain forest; a zoo camper who worked with rhinos and hippos; a musician who marched in the Rose Bowl Parade; a restorer of classic cars; and two friends who ran with the bulls this summer in Pamplona."
The class is full of high academic achievers. The average grade-point average of the class is 3.6 on a 4 point scale.
The excitement and nerves were worn openly by mothers and fathers bringing their sons to campus. The young men kept the nerves to themselves, but the day is always one of anticipation.
"Each August the pulse of life on campus quickens as we wait for this special moment, when you, the new class infuses new life into Wabash," President White said. "You bring to Wabash new hopes, new possibilities, and we who have been here longer (whether just a year, as in my case, or much, much longer) join you in your journey. As you become Wabash men today, we have every hope that Wabash becomes greater than it has ever been."
The loudest ovation of the day was not for the heartfelt words of the speakers, but for the Moms, Dads, families who made the day possible. President White asked the freshmen to stand and show their appreciation to their families in applause - a special moment in a ceremony laced with tradition.
"Some of you fathers, grandfathers, and uncles, brothers and cousins know Wabash College intimately as alumni of this great College," the President said. "I honor the joy and pride you must feel today. You will come to know and love this college nearly as much as any alumnus because you, like an alumnus of the College, will see the good work of Wabash reflected in the growth and accomplishment of your son for the rest of his life.
"I ask you to trust your son, just as you have trusted his choice to come to Wabash. Trust this College, which since 1832 has provided men with an extraordinary education for life and has led men to the enactment of their best sense of themselves. Remember too, and I mean this with all my heart, you have not lost a son, you have gained a college. Wabash will enrich your life as you see it transform your son's."
Saturday is the start of a few very busy days before classes begin Thursday. The freshmen have orientation activities Saturday night and testing on Sunday along with faculty dinners. Monday's schedule includes more tests and orientation with an afternoon of community service in the Crawfordsville area.