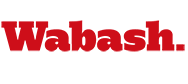 Three Class of 2011 Students to Blog About Their Year
August 6, 2007

Freshmen Jake Ezell, Adrian Perez, and Michael Richmond have introduced themselves and will blog throughout their freshman year about the Wabash experience.

Last year three freshmen wrote throughout the year and made an impact on this year's incoming class. When the entire freshman class was surveyed about the blogs, approximately 50 responded they would like to be a Class of 2011 blogger!

Ezell is from Indianapolis and a graduate of Roncalli High School. At Roncalli, Jake was active in a long list of school extra-curricular activities and sports. He also was a leader on many of those teams and organizations.

Perez, from South Texas, was skeptical about attending Wabash and going so far away from home. He attended a medically-oriented magnet school in the Rio Grande Valley and is considering a major that could lead to a career in the medical field. Click here to read his first entry.

Richmond, Franklin, Indiana, was impressed during each visit to Wabash. He's an active guy who was busy at Franklin in many organizations including cross country. His first entry is posted.

Also, the admissions and public relations offices have asked Daniel King '10 to continue blogging this year. King, a sophomore from Memphis, was part of last year's first blogging class. His entries drew lots of positive response and remarks. He expressed an interest in continuing to document his Wabash career.

Each of the guys will be making several updates weekly throughout the school year.