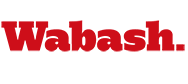 2006 Present Indiana Projects
July 10, 2007

Many Hoosiers know of prominent author and cultural icon Kurt Vonnegut. But did you know his family has a very long and rich history in Indianapolis?

Thousands to millions of people have visited Parke County's famed Covered Bridge Festival. But do you know the history of how the covered bridge served its era and evolved into a romantic symbol of times past?

If you're a Hoosier you traveled over the Wabash River or sung about it in one of the state's great songs. The river has had a significant historical, biological and human impact on the Hoosier state.

Indiana has a diverse history and culture that many have not yet come to appreciate. Present Indiana is one step in a three-part effort to familiarize Wabash faculty, staff, and students with the state.

Each summer up to 10 Wabash students are selected for an 8-week summer internship to study some area of Hoosier history or culture. The students prepare a presentation they can make to various groups during the school year.

Click the links on this page to take a look at the 2006 projects.