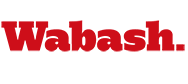 Lambert Prepared For Another Trip To Nationals
by Brent Harris

May 23, 2007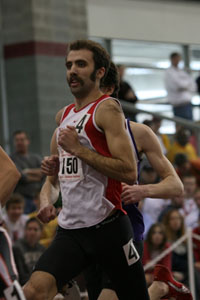 The 2007 outdoor track season didn't work quite the way junior Geoff Lambert would have planned, but the end result has still been the same - a trip to the NCAA Division III Championships.
Lambert will join 17 other competitors this weekend at the Nationals in Oshkosh, Wisconsin, to battle for the men's 800-meter title. This will be his second trip to the outdoor nationals after finishing seventh last year with a time of 1:52.76 to earn All-America honors for the first time. Three heats will run on Friday, May 25, to trim the field to the finals group that will run on Saturday afternoon.
It comes as no surprise that Lambert will compete for the fourth time at the national level after also earning two trips to the indoor championship events in 2006 and 2007. But his path to this year's championships proved to be quite a struggle.
Lambert had the top time in the nation in the 800-meter run heading into the indoor national championship meet at Rose-Hulman back in March. He easily won his qualifying heat, but was inadvertently spiked in his left achilles tendon during the race. He managed to recover from the injury to take second in the finals, trailing only Jim O'Brien from Ohio Northern by less than 4/10ths of a second.
"Geoff was spiked with one lap to go in the prelims and finished with the bloody achilles tendon," assistant track and field coach Roger Busch '96 said. "When he asked me what to do after the race, I told him, 'You can scratch or you can tough it out.' He chose to tough it out and came home as the national runner-up. I think he made the right choice.
"Unfortunately that injury forced him to take two weeks of training at a lighter pace. He was compensating for the injury, and that caused him to stress his left hip flexor. He was only able to run two times all year during the outdoor season."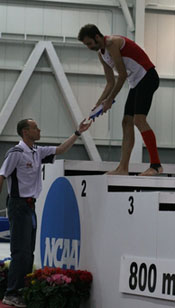 Lambert made the most of those two opportunities. He won the 800-meter title at the 2007 Indiana Intercollegiate Track and Field Championships, hitting the national qualifying time with a mark of 1:52.16. He didn't return to the track again until the beginning of May, cruising to victory in the 800 at the North Coast Athletic Conference Championship event for the third time in his career. The NCAC record-holder was named the Men's Middle Distance/Distance Runner of the Year after posting a winning time of 1:52.27, three seconds ahead of the rest of the field.

Now he'll head to the NCAA Nationals once again, despite the unusual spring schedule.

"I am really excited to be making my fourth trip to Nationals," Lambert said. "This trip is really special because I have not had the greatest season.

"My rule with Coach Busch has been to make the finals then talk about the goals. So right now I am thinking about running hard to make sure I am once again in the finals. Without the effort and training put forth by Coach Busch, I would not be headed to Oshkosh. I also need to thank Hugh Jackson '09 and John Henry '10 for training with me this outdoor season, and many of my other teammates who have told me they will make the trip to Wisconsin this weekend to support my efforts."

Busch praised Lambert's hard work and consistency. "He believes in the program, believes in the workouts, and believes in himself. Now he has the advantage of being at the national level for the fourth time, so his lack of meet preparation isn't as big a factor as it might be in other circumstances.

"He has the opportunity to do great things and is focused on making the finals in an attempt to become an All-American for the third time."

Photos - (top right) Lambert at the finish of the Indoor Nationals in March, 2007.

(bottom left) Lambert accepts his second place trophy at the Indoor Nationals with his injured left ankle still wrapped and braced.




For more information see: