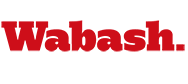 Ohmer Speaks on 'That Mysterious Hunger'
by Steve Charles

May 17, 2007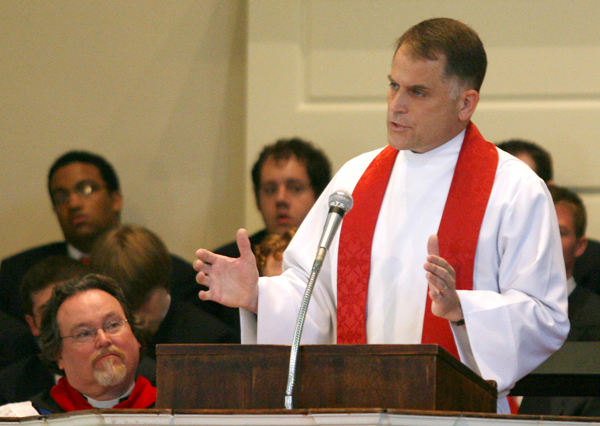 "To a people who tend to believe that God either settles for less, or, on the other hand, is merciless, God's voice calls out and offers a life-giving alternative," Rev. John Ohmer '84 told graduating seniors as he delivered Sunday's Baccalaureate sermon at Wabash College's 169th Commencement.
Ohmer, the rector of St. James Episcopal Church in Leesburg, VA, began his sermon recalling his misadventures as he approached his own graduation from Wabash in 1984. He told of spending the night in the Montgomery County Jail when, "after doing a good bit of celebrating," he and three classmates decided to go to New Orleans.
"A bad decision in and of itself, but a spectacularly bad decision when you decide the way you are going to get there is by canoe," Ohmer said as the audience laughed. (Read Rev. Ohmer's sermon here. See a photo album from the service here.)
After describing the response of then-Dean of the College Norman Moore to Ohmer's late night request to be picked up from jail, the priest referred to the first paper he turned in as a Wabash freshman.
"I got it back with an 'F' at the top, and below the 'F' was the comment, 'John, this is not a paper but a collection of loosely related quotes, most of them cliches.'"
He was saying, as so many professors before and after him said, "John, you're better than this." Which is another way of saying, 'I believe in you. I believe you can do better.'
"In a world that, on the one hand either settles for less, pretending that higher standards do not exist—or on the other hand is merciless, hammering us or shaming us when we fall short—Wabash professors strike an artful balance, saying, in effect, 'This is unacceptable…It is unacceptable because you can do better than this, because you are better than this.'
"I hear in those voices the echo of another Voice," Ohmer told the students. "There is a mysterious hunger inside of each of us—a God-shaped hole that only God can fill.
"We spend so much time trying to fill that god-shaped hole with all kinds of things…constantly searching for the latest thing that will make us happy. All these things are good, or can be, but they make terrible gods."
Ohmer then focused on "three good things we settle for that keep us from true joy, true happiness, true and lasting fulfillment": work, wealth, and religion.
"We as a people have trouble slowing down," Ohmer said. "Work is a good thing, a god-given thing. But work is a terrible god, it is a terrible center. The antidote to making work the center of our life is through the commandment to rest, really rest, trusting in God's care one day out of seven.
"A second good thing that makes a terrible god is wealth," Ohmer said. "Alcoholics have a slogan: 'First you have the drink, then the drink has you.' If we're honest about it, it's the same with money. First we have the money—the car, the house—then the money, the car, the house, has us.
"The antidote to making wealth the center of our life is through the commandment to give away a percentage of it."
The priest encouraged graduates to "get in the habit of giving away 10 percent of your money—pick a charity, any charity—for the sole purpose of breaking money's stranglehold on you."
The third good thing that can become a terrible god, Ohmer said, is religion.
"You are living in an extraordinary time. There is, going on in this country and around the world, a convergence of two massive historical trends: a great spiritual hunger; and an almost complete indifference to denominational affiliations. Your generation is spiritually hungry, and yet is impatient with religion that has lost its focus.
"You're in good company. Because the antidote to religion-as-a-false-god is God himself, working through the broad scope of salvation history.
"Seek the Lord, and you will find him," Ohmer said. "Call upon him, for he is near. Forsake the way of false gods: remember to rest in the Lord one day in seven; remember to let go of one-tenth of what you've been given; seek a faith community that has loving God and loving one's neighbor at its center.
"Those waters will quench your thirst. That bread will satisfy your hunger. With God at your center, your God-shaped hole filled with him, life in its fullest awaits you."