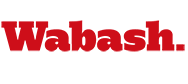 Spots Open for Entrepreneurial Accelerator Program
by Howard Hewitt

May 8, 2007

Wabash College's second Entrepreneurial Accelerator Program is set for this week in Indianapolis. There are a few spots remaining for the May 17-18 program for students and alumni.

The program will be hosted by the Ball State University Indianapolis Center. The primary goal of the workshop is to assist participants in the discovery of new business ideas that are personally compelling and have market potential.

The concept is to determine market feasibility or an idea or development of a business plan.

"We had such a great turnout and response to last year's program so we're really looking forward to this session," said Lu Hamilton, Alumni Career Officer.

Larry Cox, Director of the Entrepreneurship Center in Ball State's Miller College of Business will lead the sessions. Dr. Mike Goldsby, Stoops Distinguished Professor of Entrepreneurship, is a scholar and author of more than 20 journal articles. He writes and teaches business ethics. Gene Recker, a Senior Consultant with Basadur Applied Creativity, has 15 years experience is an expert in the area of Organizational Development.

There are spots available for students or alumni. Contact Hamilton at hamiltol@wabash.edu or phone at 765-361-6168.