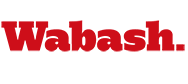 169th Commencement Ceremony to be Held May 13
by Karen Handley

May 4, 2007

Wabash College will hold its 169th Commencement on Sunday, May 13. Baccalaureate will begin at 11 a.m. in the Chapel and Commencement, which includes the awarding of two honorary degrees, will take place at 2:30 p.m. on the College mall.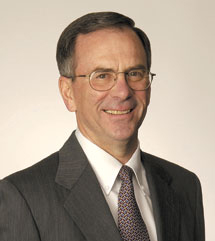 Receiving honorary degrees are Russell L. Nichols and Raymond Brady Williams.
Nichols graduated from Wabash in 1963 and is a native of nearby New Ross, Indiana. He will retire next month after 20 years as the president of Hanover College. Upon graduation from Wabash, President Nichols earned his Ph.D. from Purdue University and began a long and distinguished career as teacher, coach, and administrator, serving Wabash College, Eastern Illinois University, Hillsdale College, and Hanover College.
During his tenure at Hanover, President Nichols has quintupled the size of the school's endowment; nearly doubled the size of its teaching faculty; increased enrollment; and completed nearly a dozen facility construction and renovation projects. He was also the driving force behind the creation of the Center for Free Inquiry, the Center for Business Preparation, the Rivers Institute at Hanover, and the Center for Church Leadership.
Williams served Wabash for more than 40 years as professor, department chair, administrator, and the founding director of the Wabash Center for Teaching and Learning in Theology and Religion. He came to Wabash in 1965 after graduating with honors from Johnson Bible College, Phillips University, and the University of Chicago, where he earned his Ph.D.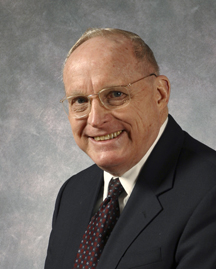 The author of eight books, Professor Williams is the nation's leading authority on Swaminarayan Hinduism. He has been honored at Wabash for his teaching with the McLain-McTurnan-Arnold Excellence in Teaching Award and for his research with the McLain-McTurnan-Arnold Research Award. He secured a grant in 1996 from Lilly Endowment Inc. to establish the Wabash Center, which has received international acclaim as the most important center of its kind whose purpose is to foster excellence in teaching and learning in undergraduate, graduate, and theological schools.
John Ohmer, Rector at St. James Episcopal Church in Leesburg, Virginia and a 1984 graduate of Wabash College, will deliver the Baccalaureate sermon.
Commencement speakers are two of the 160-member graduating class, Patrick Millikan and Gregory Strodtman.
Millikan was a four-year member, team captain, and All-North Coast Athletic Conference selection for the Little Giant football team. A religion and art double major, Patrick is the 15th Wabash student-athlete ever to earn the prestigious NCAA Postgraduate Scholarship, and also was honored by the Indianapolis Association of Wabash Men with its Student-Athlete Award. A regular member of the Dean's List for academic excellence, Patrick led his fraternity, Lambda Chi Alpha, as its president and vice president. Patrick will enroll in medical school this fall. He is the son of William '65 and Phyllis Millikan of Newburgh, Indiana.
Strodtman is a history major who will enroll in a graduate program in the humanities next fall. A regular member of the Dean's List, he was also inducted in Phi Beta Kappa. He was recently named a George Lewes Mackintosh Fellow and earned the John F. Charles World History Prize. He has been an active member of the Board of Publications at Wabash, editing several publications, including the Humanities journal Horizon. He is a member of Kappa Sigma, serving as Rush Chairman. He has presented at the College's Celebration of Student Research, Scholarship, and Creative Work, and had a roll in the Wabash College Theater Production of 1776. He is the son of Lawrence and Margo Strodtman of Indianapolis, Indiana.
Throughout the weekend there will be a variety of cultural events on campus including the Wabash Senior Art Majors' Exhibition in the Eric Dean Gallery in the Fine Arts Center. Featured will be Philip Ramilo, Will Clarke, Nic Bitting, and Dustin Beck. Gallery hours are from 8 a.m. to 5 p.m. Friday and Saturday.
The graduation ceremonies will be videotaped with a DVD available approximately July 1. Watch the College website for more information!
The Wabash Bookstore will be open from 10 a.m. to 4 p.m. Friday and Saturday and from noon to 2:30 p.m. Sunday.