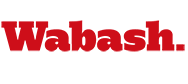 Sophomores' Summer Work
by Compiled by Howard W. Hewitt

May 1, 2007

Michael Washburn, Newburgh, In., will intern in Wabash's Chemistry Dept.; Sean Clerget, Lafayette, In., will be a U.S. Senate intern for Richard Lugar or a White House internship in Washington D.C.; Steve Abbott will on an assembly line and interpreter in an Elkhart factory which employs many Hispanics; Trent Hagerty, Indianapolis, will be working in the financial/accounting and business development departments of the Department of Child Services in Indianapolis.

Ted Zimmer, Mendham, N.J., will be a financial analyst intern for Clifton and Gunderson, Indianapolis; Juan Carlos Venis, West Lafayette, In., will take part in a summer institute on bioinformatics and integrative genomics in Boston, Ma.; Sandeep Sharma, Nepal, will participate in the on-campus Business Immersion program and then return home for a month; Sam Krutz, Fountain City, In., will have a summer job with Wabash IT, and will join his Eagle Scout friends running a summer camp.

Eric Woolf, Scottsdale, Az., internship at the Arizona Cancer Center and taking classes at Arizona State University; Brian Maloney, Crown Point, In., will participate in the Ecuador Immersion program and spending two weeks in a Spanish program at Pontifico University in Quito and another two weeks exploring el Oriente; Blaine Cooper-Surma, Free Soil, Mi., will participate in the Business Immersion program.

Nick Roudebush, Cicero, In., will be a white water rafting guide with Nic Bitting '07, in Gardiner, Mt. That area is the north entrance to Yellowstone National Park. Riley Hitchcock, Bedford, In., will be taking nine weeks of Basic Combat Army Training at Fort Leonard Wood, Missouri, as a member of the Army Reserves; Stephen Prunier, Noblesville, In., will work in Eli Lilly's Center for Statistical Analysis at Indianapolis; Emanuel Harper, Indianapolis, has a summer internship at the University of Michigan through the Telluride Association.

Shawn Crane, Palm Harbor, Fla., internship with Pinellas County Clerk's Office working in Clearwater's Criminal Justice Center; Duncan Dam, Vietnam, will be doing chemistry research at Syracuse University; Matthew Lee, Evansville, In., will shadow attorney Todd Glass '84 a Wabash alum and also work at Wabash Plastics for John C. Schroeder '69; Rob Fenoglio, Highland, In., will intern on a Lilly-funded scholarship at the Crawfordsville Journal Review.

Steve Stambaugh, Valparaiso, In., will intern at St. Vincent's Hospital helping create a new outpatient center. Stambaugh will work with Scott Benedict '98 and Terry Hamilton '89 during the Lilly-funded internship. Jacob Peerman, Boonville, In., will participate in the Present Indiana p4rogram on campus; Derek Hickerson, New Albany, In., has an internship in Wabash's Rhetoric Dept.

Timothy Closson, Thornton, Co., interning as a technical director at Curious Theater in Denver through a Dill Grant; Richard Hogue will be working Delta, Wi., as a camp counselor leading outdoor activities; Jake Thomas, Evanston, Ill., will join Matt Dodaro '09 playing baseball and taking classes at Tucson, Az.; Divash Basnet, Nepal, will participate in the Summer Business Immersion program; Shayne Dube, Indianapolis, will work with Dr. Tim Lake as part of a Know Indiana Internship researching African-American history and historical markers in Indiana.

J.T. Moore, will work with Wabash grounds crew this summer and coach the Crawfordsville Eagles, a college age baseball team; Ross McKinney, Cicero, In., will be participating in the Present Indiana Program on campus; David Braitman has a summer internship researching testicular cancer at Indianapolis' VA Hospital; Zac Simpson, Cicero, In., will participate in the Present Indiana Program on campus; Travis McLaughlin, Batavia, Oh., will take summer classes at University of Cincinnati; Rob Bloss, Indianapolis, will intern at Northside Baptist Church. He will be working with 6th-12th graders.

Caleb Mast, Kokomo, In., will work for American Party Time in his hometown, and will be involved in a summer project with Campus Crusade for Christ in Virginia Beach, Va.; Patrick Murrell, Tulsa, Ok., will be working a construction job to save money for his upcoming semester in Spain; Stephen Ellis, Rolling Prairie, In., will work in a corrugated board factor near his hometown; Tyler Gibson will work for the second straight summer at Connecta Corp., Indianapolis, for Alan Pyle '67; Campbell Robbins, Indianapolis, will conduct database and inventory work for Star Environmental.

Justin Bilby, Ossian, In., will be working in a doctor's office and also with a water damage restoration business; Jay Horrey, New Albany, has an internship through the Wabash Small Business Internship program with The Legal Aid Society of Louisville. The executive director is a Wabash grad. Xianwei Meng, China, will be visiting high schools and promoting liberal arts. Meng is also finalizing an internship with Deloitte's Beijing's office.

David Herr will play piano at Gamba's Italian Restaurant in Merrillville and also serve as music minister at St. Michael The Archangel church in Schererville, In.; Tom Pizarek, Austin, Tx., will be conducting research with Dr. James Brown studying nuclear physics; Hugh Jackson, Fort Wayne, In., will spend most of his summer running in preparation for fall cross country season; Shane Dixon, Sheridan, In., will work at Kanakuk Kamp, Missouri, a Christian sports kids' camp.

Sabir Shrestha, Nepal, will be working through a Dill Internship with UNICEF in a Primary School Improvement project in rural areas of Nepal; Mitch Miles will participate in the Ecuador program and work the rest of his summer at RR Donnelley in Crawfordsville; Jeremy Morris, will take some summer classes and work out; Jeff Austen, Logansport, In., will be taking IUPUI summer classes and volunteering at an Indianapolis hospital.

Andrew Rode, Chicago, will help at summer football camps near his home; Andy Leshovsky, St. Paul Park, Mn., will be involved in the Ecuador program then head to the Middlebury Summer Language School in Vermont; Naun Benitez, Dallas, Tx., will have an internship at a local law firm; Devin Moss, Oldenburg, will be taking physics at IU and looking for a summer job; Brandon Christy, Valparaiso, In., will be working road maintenance for Porter's Water Department and working out.

Kevin Witt, Huntington, will be managing a family-owned brick and mortar hobby store in Fort Wayne for his parents; Kevin Fleck, Greenwood, In., will work at Hayden Physical Therapy in Greenwood as an aide; Wes Prichard, Shelbyville, In., will work at Indiana Downs, taking two classes at IUPUI, and shadowing doctors in surgery at Shelbyville's Major Hospital; Adam Fritsch, New Alsace, In., will be interning in nuclear physics with Dr. Jim Brown; Brent Graham, Fort Wayne, will be coaching swimming and lifeguarding at a hometown Country Club.

Brad Armstrong, Fort Wayne, In., will be doing research on campus in the Economics Dept.; John Holmes will be participating in the Business Immersion Program; Mark Turpin, Evansville, In., will take classes at IU, Bloomington; Daniel Masterson, South Bend, will be opening his own franchise of College Pro Painters; Zachery Morten is spending his summer in Tampa, Fl, but unsure of his summer work; Josh Gangloff, Bright, In., will be working at a Christian sports camp in Branson, Mo., and then back home to work in his family electronics business in Cincinnati.

Scott Liska, LaGrange Park, Il., will be working summer sports camps at his high school take a couple of summer classes, and caddy at a nearby country club; Joe Merkley, St. Louis, Mo., will be will do biology research on campus; Joey Barriga, Fort Worth, Tx., will work at his family's Mexican restaurant in Fort Worth; Jonathan Harris, Columbus, In., will work as an emergency technician in his local hospital; Miles Jansen, Westfield, will mow lawns and also wait tables at Abuelos.

Austin Kline, Huntington, In., will be doing biology research on campus with Dr. Wetzel; Dustin Foster, Portage, In., plans to find a job back home and do some camping; Anthony Neymieyer, Essexville, Mi., will work out in preparation for football season; Ben Ladowski, Fort Wayne, In., will be in the Ecuador program; Krzysztof Wojciechowski will spend most of the summer with Greg Jania '93 in a private equity firm. He also plans a European trip.

Nathan Rutz, Cincinnati, Oh., will be working to build a legal case against mountaintop strip mining in the Appalachian region; David Peden will work at Merrill Lynch in Fort Wayne; Michael Kaster, Carmel, In., has an internship at Clarian North Hospital, Carmel; Steve Egan, Crown Point, In., will research the Amish as part of the Present Indiana program; Adam Pilli, Cary, Il., will work for a northern Illinois moving company; Neil Cook, Evansville, is taking one summer class and preparing for a year abroad in Germany.

Drew Oehler, Terre Haute, In., has a medical internship with Dr. Todd Rowland '85 in Bloomington; Stephen Isles, Mascoutah, Il., will work for Wabash Career Center; Ryan Waldon, Crawfordsville, In., parasitology research with Dr. Eric Wetzel on campus; Robert Arnett, Greenwood, In., will work in the career services office; Tyler Dougherty, Cambridge City, In., will be participating in the Ecuador program then returning home and work in his apple orchard.