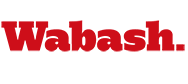 Wabash's Mentors for Kids Wrap Up School Year
April 27, 2007

Wabash College's Chapter of Mentors for Kids finished up the current school year with a banquet April 26.

The elementary students, parents, and Wabash men had a light dinner in Detchon Hall and a short program to celebrate a year of learning. This year the College group took on 10 first graders from Hoover Elementary School.

Hear Mentors for Kids President Chris Serak '08 talk about this year program, and see photos, by clicking here.

Read more about this year's program here.