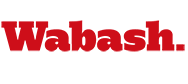 President White: Thoughts on Wabash
by Patrick Smith, The Bachelor

April 25, 2007

Dr. Patrick White is the sort of college president that can go from discussing the beginnings of the new capital campaign to The Man Who Shot Liberty Valance almost seamlessly. His interests are intense and broad-ranging, and he is happy to talk about what engages and excites him. The Wabash community has certainly found this out during his first year as president. For his part, he has learned many lessons about Wabash, the culture of the College, and the broader community.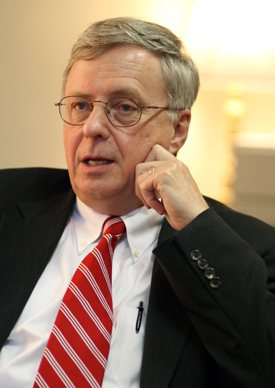 "I certainly learned a lot about Wabash and alumni and their devotion to Wabash," White said. "It's both loving what happened to their [i.e., alumni] experience in the past and wanting the best for the future."
The recent Wabash Commentary shakeup is an example of the two issues about which White cares. "It was an interesting moment, because students played it out in their own ways," White said. "They go out and lead, and that's good news."
White has been pleased with the leadership shown by students in all contexts with which he has experience and knowledge. "I have been so incredibly impressed with the students at Wabash who act as though they're full players," White said.
White warned against a drive to take student responsibility and freedom from students, in favor of a more aggressive administrative regime. "I think, sometimes, there's a lot in American college experience, faculty, and administration that wants to control and infantilize the students," White said.
After Dr. Andrew Ford's thirteen-year tenure, the experience of a new president was indeed new to all students and many members of the faculty. The experience has been unique for White, as well. "I learned how public a figure the president is at Wabash," a lesson that he termed "curiously humbling and yet very flattering."
However, Ford's legacy of a capital campaign and a massive building program still remains on campus. White is not bothered by the inevitable comparisons to Ford. "I have a lot of respect for Andy Ford, but I have so much respect that I won't try imitating him," White said. "If you're not speaking in an authentic voice, then it's just too hard."
In a previous interview with the Bachelor's Rob Fenoglio, for the special inauguration issue, White discussed a course on women in film he taught at St. Mary's College. This year, he taught a day of Cultures and Traditions, substituting for the regular professor. Courses that he would like to teach at Wabash include gender in film and a course about liberal arts colleges. "I'd like to teach a course about liberal arts colleges," White said. "What are these wonderful things?"
However, his return to teaching is not imminent. "I haven't found a way," White said.
The housing issues for independent men, which have returned to the forefront of many minds with the troubled renovations at College Hall, are also important to White. "We may be needing to find short-term housing," White said.
However, White would like to assess "our needs and our opportunities here" before charging headlong into a major renovation or construction project. Furthermore, the Board of Trustees will have to make any final decisions on housing.
On the broader issue of independents and fraternities, White took the issue from both sides. "Wabash had put some real investment in fraternity life," White said. "This is a good thing, good things happen in fraternities."
However, that is not to say that independents are forgotten in the College's culture and life. "There is support from alumni to make sure that independents are not left behind," White said. He also expressed interest in discovering the character of living units, fraternities and dormitories alike.
When asked about bringing the various research centers of the College, like the Wabash Center and the Center for Inquiry, into the life of the College, White quipped, "That's a resolution devoutly to be wished."
White discussed the histories of the centers and the level of faculty engagement in the context of what they can and should contribute to the College, as opposed to the broader communities that they serve. "What is the relationship between this entity and Wabash students and professors," White asked. "This has not been answered because it almost hasn't been asked."
Of the Wabash Center, it is "more famous at Duke University than at Wolcott," White said.
While there is only so far that these centers can go in integrating completely into the life of the College, White hopes for progress. "At the very least, [he wants] students having more understanding about what is going on there," White said.
The recent curriculum review has met with White's approval. "I'm pleased with the process, because people are talking and taking it seriously," White said. "Gary Phillips and the other people who are driving this are keeping a central focus on student learning."
"We shouldn't be sort of willy-nilly flying around changing things," White said. "The character of the College needs to be grounded in some continuity."
White enjoys thinking about issues such as student freedom, the academic life of the College, and the mission of Wabash. "I hope we don't know quite yet how good we can be at Wabash," White said.
Smith is The Bachelor's Opinion Editor and 2007-08 Editor in Chief.