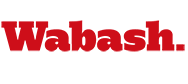 Dallas Group Welcomes Whites - Texas Style
by Tom Runge

April 25, 2007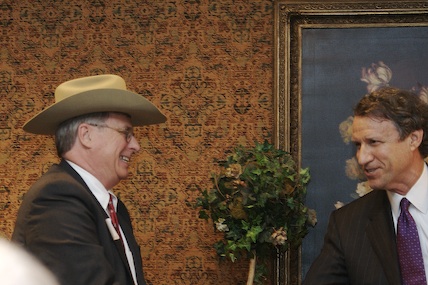 Dallas, Tx. April 24, 2007. Despite severe thunderstorms and a couple of tornadoes, a great crowd turned out to welcome President and Mrs. White to the Dallas-Fort Worth area. Local alumni leaders Ray LaDriere '78 and Dan Susie '68 co-hosted the evening. Of course, local area leader Dutch Friese '48 would have been at the forefront, but Dutch was off cruising the world on yet another fun trip!
Pat White gave the group an update on the College including the bright admissions outlook for the fall and the status of the Strategic Planning process, which is set to begin in earnest in the fall. Pat also explained the critical importance of hiring new faculty. It is not just finding someone who can teach, he explained, but someone who truly "gets" Wabash and engages students in and out of the classroom. Anything less just is not the Wabash way, Pat stated.
Ray LaDriere took a moment to recognize the long term contributions of recently-retired Judge Jay Patterson '65. Jay retired in January after a 12-year tenure as one of the leading judges in the entire area. Retirement, though, is much too strong a word as Jay's currently leading the exploration effort for a new public law school in the north Dallas area.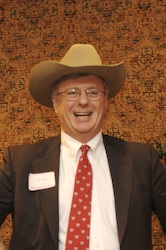 At the end of the evening, Dan Susie called President White to the podium and presented Pat with the ultimate Dallas-Ft. Worth gift, a custom-fit Stetson. As they say in the movies, the crowd went wild!
Many thanks go to Anne LaDriere, Ray's spouse. Anne set up the entire event, making the evening special in every way. Earlier in the day Anne also showed Chris White around the Dallas area.
Top photo: President White accepts the Stetson from Dan Susie.
Photo on right: President White looks good!
For more photos, click here.