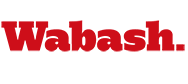 Six High School Seniors Awarded Lilly Scholarship
April 23, 2007

Six high school seniors have been awarded Lilly Scholarships to attend Wabash College. The Lilly Scholarship is the College's most prestigious award. The scholarship is renewable for four years and covers the recipient's tuition, fees, room and board. The College's Financial Aid Office estimates the scholarship's value at more than $140,000.

The full-ride scholarship has been offered to four Hoosier students and two from out of state. The winners are: Seth Einterz, Zionsville, IN, Zionsville High School; Jacob Ezell, Indianapolis, IN, Roncalli High School; Jake German, Crawfordsville, IN, North Montgomery High School; Spencer Gore, Parkersburg, WV, Parkersburg South High School; James Morey, Mount Horeb, WI, Mount Horeb High School; Chris Sidebottom, Muncie, IN, Indiana Academy.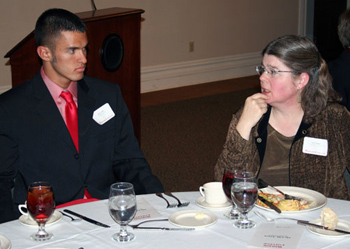 Lilly Scholarship Weekend was held April 12-14 when 30 young men visited campus and participated in interviews and seminar discussions to determine the winners.
The College looks for young men who show potential for leadership and future promise – men who are likely to have an impact not only on Wabash, but on their community and the world.
To be eligible a student must:
have a GPA of 3.5 on a 4.0 scale,
rank within the Top 20 percent of his senior class,
have an SAT score of at least 1710, or an ACT composite of at least 25.
Besides academic achievement, awards are also based on independent or innovative work, and the students' contributions to their school or community.
In photo: Roncalli High School's Kirk Cahill talks with Professor Cheryl Hughes.