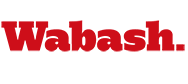 Coach Chris Creighton - Western PA's Man of the Year
by Tom Runge

April 21, 2007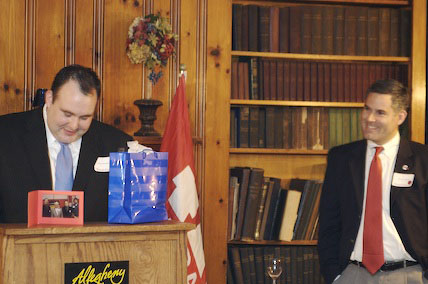 Friday, April 20, 2007. Alumni and their families, all a part of the Western Pennsylvania Association of Wabash Men, packed the library of the Harvard-Yale-Princeton Club in downtown Pittsburgh to honor head football coach Chris Creighton as their Man of the Year. A special presentation by Eriks Janelsin '02, who played for Coach Creighton in first year at Wabash, was the highlight of the evening.
Regional Association president Lyndall Huggler '83 welcomed everyone to the HYP Club and introduced Coach Creighton and Wabash Dean of Admissions Steve Klein, the College's senior representatives. Lyndall thanked Charlie Quillin '60, for his efforts in making all of the evening's preparations.
After dinner, Janelsin presented the Man of the Year Award to Coach Creighton. The Coach thanked the group and then offered everyone an insider's look at Wabash football for the coming year. Finally, Coach Creighton opened the floor for questions and received a flurry of them.
Dean Steve Klein closed the evening with an update on the Admissions picture for the fall. Dean Klein noted the inclusion of young men from the surrounding area in the Class of 2011. To close, he thanked the group for their continued efforts for Admissions.
The Passodelis Clan, led by Chris Passodelis '55 and his wife Cathy, turned out in force. Chris's grandsons all hit Coach Creighton up for autographs after his presentation.
A good time was had by all. Thanks go out to Lyndall Huggler '83, Charlie Quillin '60, and Eriks Janelsin '02 for making the evening one of the best in memory.
Photo: Ericks Janelsin '02 offers his prepared remarks about Coach Chris Creighton.
For more photos, click here.