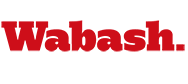 University of Chicago's Stone Honored for Excellence in Law
by Patrick McAlister '10

April 20, 2007

Throughout the year, examining the line between national security interests and liberties guaranteed by the Constitution during wartime has been at the forefront of national political debate. From classroom discourse on the topic to the John Ashcroft events, Wabash has added its very own voice and ideas to this discussion.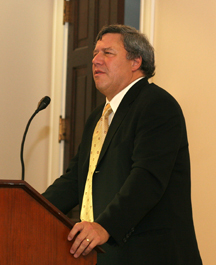 Geoffrey Stone, Distinguished Professor of Law at the University of Chicago, added to the discussion with his lecture "War and Liberty." Stone's lecture, sponsored by the Pre-Law Society and Pre-Law Committee, was held in conjunction with the annual David W. Peck Awards Banquet. Stone received the David W. Peck Senior Medal for his distinguished legal career.
To see photos from the David W. Peck Awards Banquet, click here.
Stone has recently written Perilous Times: Free Speech in Wartime from the Sedition Act of 1798 to the War on Terrorism. His book has won prestigious awards including the Robert F. Kennedy Award and the Los Angeles Times Book Prize. Perilous Times was honored as the best book in categories including history, political science, and public affairs. Stone is considered, according to Professor Scott Himsel, to be the nation's leading scholar on free speech in wartime.
Stone posits that situations of liberty and security tension during wartime have occurred many times in American history. He outlined four disturbingly concurrent scenarios – the Alien and Sedition Acts of 1798, the suspension of habeas corpus by President Lincoln during the Civil War, the Espionage and Sedition Acts during World War I, and the Japanese interment during World War II.
Stone says in each of these periods, the necessity of taking those liberty infringing actions were, at that specific time, thought of as necessary. In taking retrospective looks at those situations, most of those decisions were overturned. Years after the Japanese internment, for example, those who were held captive by the government were given reparations.
"[Speakers like Stone] remind us of the importance of evaluating and defending our Constitutional civil liberties," said History Professor and Pre-Law Committee member Yvonne Pitts. "Having those debates between ourselves as citizens and our obligation as citizens to the political process."
"Professor Stone's lecture was very insightful," said Jesse James, President Emeritus of the Pre Law Society. "Tracing the idea of liberty during wartime is very intriguing, and I believe very pertinent to our generation."
Later that evening at the annual Peck dinner, Stone was awarded the Senior Peck Award for eminence in law by President White.
Joe Cooper won the Peck Junior Medal, while Keith Clayton and Dan Shirey were honored with the James E. Bingham Award. Other award winners included Jim Stephens and Steve Thompson, who shared the Joseph Daniels Award in Constitutional Law; Brandon Ehrie, who won the William Nelson White Scholarship Award; and the Richard O. Ristine Award for contributions to the Pre-Law Society was presented to Schroeder Career Center Director Scott Crawford.