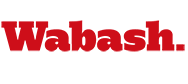 'shOUT Presents Panel on Christianity, Homosexuality
by Howard Hewitt

April 17, 2007

'shOUT, Wabash College's gay-straight alliance, is sponsoring a panel discussion Thursday evening featuring two ministers and two College professors.

The presentation is being called a panel discussion and not a debate. The panel will address if homosexuality can be reconciled with Christianity or are they fundamental contradictory.

Reverend Jeff Miner, Indianapolis, leads the Jesus Metropolitan Community Church in a $1.3 million facility. It has been recognized as Indiana's first homosexual-owned house of worship. He has co-authored a book on homosexuality and the Bible, The Children Are Free.

Pastor John Grossman, Cincinnati, is senior pastor of Grace Evangelical Free Church for the past 25 years. He is the father of nine children, including a son at Wabash.

Wabash Professor of Religion Stephen Webb and Spanish Professor Dan Rogers will also participate in the panel discussion.

The talk will begin at 8 p.m., Thursday, in the Lovell Lecture Room at Baxter Hall.