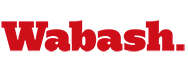 Center Hall Turns 150 Today; Party Planned
April 11, 2007

From the President's Office:

I hope you can join us in celebrating the 150th birthday of Center Hall. We invite you to stop by in the afternoon on Wednesday, April 11, from 3:45-4:30 p.m. for cake and punch, and a little history lesson about Center Hall.

April 11, 1857, is the day that Archivist, Beth Swift, has determined is the earliest date that she can identify when something "official" took place in Center Hall. We hope to see you on Wednesday to celebrate a grand building, a center of Wabash tradition.