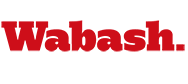 Senior Desmond Risper to Present Recital
April 5, 2007

Get directions to Wabash College Fine Arts Center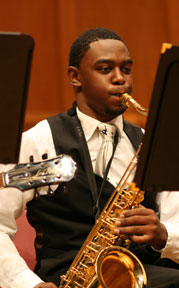 The Wabash College Music Department invites you to Desmond Risper's senior recital at 8 p.m., Saturday, April 7, in Salter Hall in the Fine Arts Center.
Risper, a saxophonist from Chicago, is a versatile musician. He will offer both classical and jazz selections and will begin the evening by playing his saxophone version of Amazing Grace with dance guest artist, Takiah Pierce. The program will be followed with Risper performing a solo saxophone selection written by song writer Philip Glass, saxophone pieces by Hans-Martin Linde (accompanied by Diane Norton), and a Mozart piano sonata.
Turning to jazz ensemble pieces, Risper will perform with guests from two groups that he has worked with over the years, Just Friends and The Wabash Jazz Catz (a.k.a The Wabash Jazz Improvisation Combo). The ensembles will perform music by some of the all-time jazz greats, Charlie Parker, Duke Ellington, Edward Heymann, and George Gershwin.
The recital is free and open to the public.