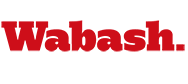 Wabash College Seniors Exhibit Their Art
April 5, 2007

Get directions to Wabash College Fine Arts Center

Wabash College senior art majors Philip Ramilo, Will Clarke, Nic Bitting, and Dustin Beck will exhibit their work beginning Monday, April 16 in the Eric Dean Gallery in the Fine Arts Center. A reception will be held from 8-9:30 p.m., Monday, April 16, in the gallery. The Senior Show will be exhibited through May 13.