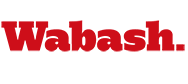 Two Experts Discuss Cultural, Legal Hurdles for Immigrants
by Howard W. Hewitt

April 2, 2007

Two experts offered advice and insight Monday into the country's immigration debate kicking off Multicultural Festival Week at Wabash College.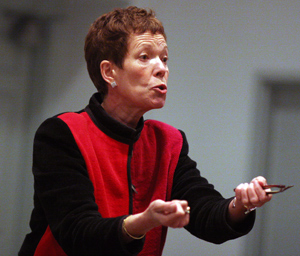 Dr. Ulla Connor made it clear immigrants learning English solves only half the problem while Angela D. Iza said it's not 'illegal immigration' but a complex issue that gives immigrants few avenues to solve their legal status.
Connor directs the Indiana Center for Intercultural Communication (ICIC) in the IU School of Liberal Arts at IUPUI. Iza is an attorney with Lewis & Kappes, Indianapolis, specializing in immigration and international law.
"It's not enough to teach immigrants to speak English," Connor told students, faculty, and guests. "Americans have to be connected; there has to be an accommodation made on both sides."
Connor's group works with education and business to help integrate immigrants into U.S. language and culture. She noted that while 80 percent of those in Indiana school speak Spanish as their native language, there are more than 200 different languages represented in Hoosier schools.
She explained how her educators will teach business or education leaders to ease the transition for non-English speaking workers and students. They offer tips in language and non verbal communication which fosters communication.
"It's not that everyone here needs to learn Spanish, but we need to learn strategies to communicate," she said.
The ICIC works extensively with the IU School of Medicine. The Med school enrolls an increasing number of students who speak English as a second language.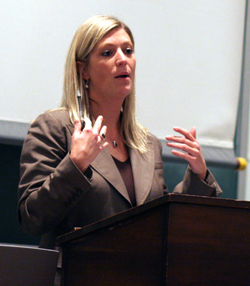 Iza spent much of her time offering facts about immigration as the country's leaders continue to debate immigration reform. She began by debunking the term "illegal immigration," noting that those here without a visa or appropriate papers are 'undocumented' and should they be deported that is an administrative procedure and not a criminal proceeding.
"There are 11 million undocumented immigrants in the United States and that is probably a low estimate," she said. "There is probably more than you can actually imagine."
She said research has shown that 15 percent of the labor force is immigrants with about five percent of that group being undocumented visitors. But she countered many popular beliefs saying immigrants have stimulated investment, paid taxes never to see those dollars returned to their own pockets, and generally do not displace U.S. workers.
She even chuckled when talking about some politicians or pundits suggestions to deport all illegal aliens saying the cost would be astronomical.
A bulk of her presentation was explaining the governmental maze any immigrant must go through to attain legal status. She gave numerous examples which could take a well-meaning immigrant with a job and a family years and years to win legal status. In most cases a return trip to their native country is required with a waiting period that can last one to 10 years with no guarantee they'll be allowed to return.
There is no new law with Congress continuing to debate solutions. U.S. immigration law goes back decades with numerous amendments and changes through the years. She said the complexity is what now necessitates a comprehensive new law to solve immigration challenges.