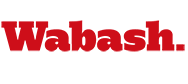 Spolarich Talks Vonnegut at Public Library
April 2, 2007

2007 is the Year of Vonnegut. Throughout the year the Indianapolis-Marion County Public Library and the Indianapolis Cultural Development Commission are collaborating with community partners on a statewide celebration to honor one Indiana's own, author Kurt Vonnegut.

Wabash College junior Aaron Spolarich contributes to The Year of Vonnegut with his research project "Vonnegut: A Hoosier Legacy." Spolarich completed this project through the Present Indiana research program in which he participated last summer. The Present Indiana program is funded through a grant from the Lilly Endowment. The program provides students with a stipend to conduct summer research on a culturally significant aspect of Indiana. Spolarich's research focused on the legacy of the Vonnegut family within Indiana. His project culminated in a DVD presentation which he has been exhibiting at venues across the state.

Spolarich will share his presentation with the Crawfordsville community on Monday, April 2 at 7:00 p.m. in the Lower Level classroom of the Crawfordsville Public Library. Plan to attend and learn about the interesting family background of Kurt Vonnegut, one of Indiana's most famous authors.

Vonnegut is known for his use of biting satire and black humor. This distinctive style is showcased in his nationally acclaimed books Slaughterhouse-Five, Cat's Cradle, and Breakfast of Champions. The Year of Vonnegut was created as a celebration of the accomplishments of this native son, and will be a combination of lectures by the author, exhibitions of his work, and films about his life which will occur in Indianapolis and throughout the state.