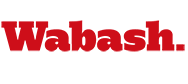 Singer Lucia Pulido in Concert Friday at Wabash College
March 27, 2007

Get directions to Wabash College Fine Arts Center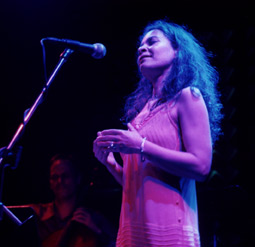 Wabash College's Visiting Artists Series will present Lucia Pulido and ensemble Palenque at 8 p.m. on Friday, March 30 in Salter Concert Hall in the Fine Arts Center.
A pioneer of Neuva Cancion (New Song) in Colombia, Luca Pulido moved to New York City in 1994 and continues to mine the musical traditions of her native country while incorporating elements of jazz, contemporary music, and Latin American song in her ongoing search for new musical possibilities. Pulido has one of the richest voices on the Latin American musical scene, and her musical explorations include collaborations with musicians from Argentina, Japan, and Brazil. In February 2006 she recorded with Palenque, a guitar, clarinet, and percussion ensemble that will perform with her on the Salter Hall stage.
The New York Times says, "Ms. Pulido holds on to the rawness of the original melodies while giving them a sophisticated new context."
Palenque is an ensemble that pays homage to the "chirimía", one of the many types of Colombian street bands, through a highly experimental style. Traditional genres such as cumbia and bullerengue from the Atlantic Coast, currulaos from the Pacific Coast as well as joropos of the Colombian Eastern Plains are the point of departure for musical creativity. Lucía's vocal sophistication is enhanced in genres such as herding songs (cantos de vaquería), funeral laments (alabaos) and harvest chants (cantos de zafra) which give the singer the liberty to explore her voice fully. The ensemble also performs songs written for Lucía by composers Iván Benavides and Sebastián Cruz. Cruz is currently the ensemble's arranger and musical director. Palenque's core group consists of percussion, clarinet, bass, guitar and voice.
Seating for Visiting Artists Series events will be by general admission, though free tickets are required for Visiting Artists Series programs.
Contact the Fine Arts Center Box Office by email at boxoffice@wabash.edu or phone: 765-361-6411. Box Office hours are Monday through Friday, 8:30 a.m. to 12 noon and 1:30 to 4 p.m. The box office will open 90 minutes before curtain time for Visiting Artists events. Tickets not claimed at the Box Office 10 minutes prior to curtain will be released to the general public.