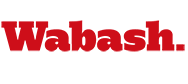 Celebrating Scholarship Luncheon Saturday
by Howard Hewitt

March 22, 2007

Wabash students, faculty, and staff will gather Saturday for a unique 'thank you' to benefactors providing student scholarships.

The Celebrating Scholarship Luncheon began in 2004 and has become a key event on the spring College calendar. The luncheon is a way to recognize named scholarships at Wabash, said Marilyn Smith, Coordinator of Donor Relations.

"It is an event where many students can meet the benefactors and family members connected to the scholarships, which allow Wabash to offer merit- or need-based aid to cover 90 percent of its students.

"Alumni appreciate their Wabash experience and how it changed their lives, and want to share it with others and perpetuate the opportunity for future generations."

More than 300 people are expected for Saturday's luncheon. Dr. Christopher Coble '85, Program Director, Religion Division of Lilly Endowment, will deliver one of two key addresses. He was a recipient of the Ferdinand Tannenbaum Scholarship while at Wabash.

Tim Schirack '07, recipient of the Smith Family Scholarship, will deliver the other keynote address.

President Patrick White and Dean of Advancement Joe Emmick will also make remarks.

"Although each year students write thank you letters to the benefactors, the luncheon gives students and parents an opportunity to personally say thanks to the donors of their scholarships," Smith said.