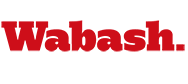 Parliamentary Union Scores a National Championship
by Victor Nava '10

March 22, 2007

In a yearly tradition to see who ranks as the best speech and debate team from colleges across the nation, the Wabash College Parliamentary Union traveled to the University of Mississippi March 15-18. As founding members of the honorary speech fraternity Delta Sigma Rho Tau Kappa Alpha, Wabash has been competing in this national competition since its founding. This year was no different and brought about the toughest competition faced by the Parliament Union all year.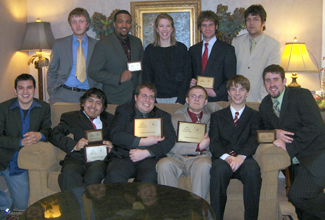 Competing this year alongside Wabash College were nationally ranked speech and debate teams from the University of Alabama, University of Florida, Louisiana State University, and Morehouse College just to name a few.
This years' biggest win came in the form of a national title in Parliamentary debate when Kevin Travis McLaughlin '09 and Stephen Anthony Ellis Jr. '09 won in a 2-1 decision over tough opponent Louisiana State University. Along with that title, Nava placed third in overall debate speaking points and Ian Bisbee '07 capped off the night with a fifth-place rank in the same category.
Overall, the small but growing team from Wabash College placed sixth overall in comparison with the total ranks from all other competing schools in every event. This was an amazing feat considering the size of Wabash as opposed to the much larger state schools there.
Wabash pulled out some honorary win. In extemporaneous speaking, Victor Nava '10 placed fourth and Kevin Travis McLaughlin '09 placed fifth. Poetry interpretation saw Kevin Billups '10 placing sixth in the nation.
"I never expected to do so well my first year," said Billups. This year the Parliamentary Union has seen a rise of freshmen talent to replace the seniors to be graduating this year. "We have so much talent on this team and I'm excited for us to do as well, or even better, in the future," Jonathan Torrez '10 said.
"I am so proud of these guys. Every student gave it his best effort and made Wabash proud," said a delighted Professor Jennifer Abbott.
The Parliamentary Union is looking to restructure itself next year and establish itself as a competitive organization to be recognized by the college. They encourage any students interested in forensics competition to speak to any professor in the rhetoric department.
In photo: BACK ROW L-R: Grant Gussman '09, Kevin Billups '10, Prof. Jeniffer Abbott, Matt Plachta '07, Ian Bisbee '07. FRONT ROW L-R: Jonathon Torrez '10, Victor Nava '10, Kevin Travis McLaughlin '09, Stephen Anthony Ellis Jr. '09, Spencer Elliott '10, Robert Bloss '09