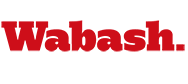 Guster Will Perform Mar. 31 in Chadwick Court
March 12, 2007

College touring band Guster will play Wabash College's Chadwick Court at 7 p.m. March 31.

The band has become known for its fanaticism for its music and its college tours. It was Guster's fourth album, "Keep It Together," that propelled them into bigger things. They have toured with John Mayer and been featured on cable television music networks.

They've also been in the forefront of embracing online music distribution. Guster released a series of live albums via iTunes.

They are unique. The band's drummer Brian Rosenworcel has a different drumming style, playing all of his drums and cymbals with his bare hands.

Tickets are on sale now for Wabash students, noon-1p.m. in the Allen Center. Cost is $15 and each student must have their ID to make a purchase. Tickets are now available to the general public.
Tickets will also be on sale 6 p.m. to midnight Friday in the Allen Center Lobby and 4-5:30 p.m., Mar. 28, 29, 30.
The band members met in Aug. of 1991 as freshmen at Tufts University. They soon became friends and started playing in Boston's famous Harvard Square.
The Format will open for Guster's Mar. 31 performance.
Guster is also active in social issues. Guster and Reverb is in the midst of the second annual Campus Consciousness Tour, an eco-friendly tour that aims to support students' efforts to make their campuses more "green." Each stop features daytime activities such as a "Pimp My Clean Ride" car demo and the Shift Consciousness Pavilion at the concerts. Click HERE for details.
In photo: Lead singer and guitarist, Ryan Miller.