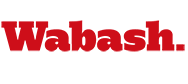 Alumni Gather To Discuss MXIBS Future
by Tom Runge

February 19, 2007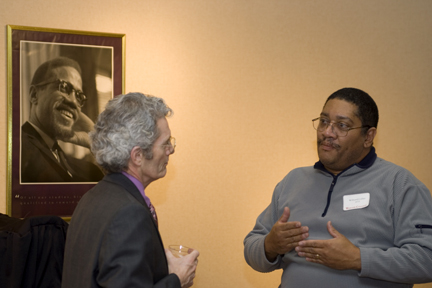 In a weekend full of activities, Wabash alumni gathered over lunch at the Malcolm X Institute for Black Studies (NMXIBS) Saturday to get updates on the Wabash today from campus leaders and to discuss the future.
Despite the weather, which dumped 4 more inches of snow onto the 12"-15" we already had, Institute director Tim Lake and assistant director Amina McIntyre welcomed a good cadre of alumni leaders including Trustee Daryl Johnson '82 and Indianapolis Association of Wabash Men board member Keith Veal '92. Willyerd Collier '75 made the trip up from Arkansas and Adam Price '88 flew out from Washington, DC.
Current students added their experiences to the discussion, including Trey Chinn '07 from Mississippi and Jeremy Morris '09 from California.
Joining the discussion were Wabash President Pat White and his wife Chris, Dean of the College Gary Phillips, Dean of Students Tom Bambrey '68, and Dean for Advancement Joe Emmick '92.
Photo: Dean of the College Gary Phillips talks with alumnus Willyerd Collier '75.
For photos from the luncheon, click here.