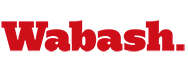 Wabash College, Crawfordsville Buried in Snowstorm
by Howard Hewitt

February 14, 2007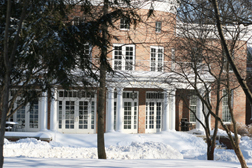 Campus Services cleared walks and pathways to allow classes to continue Tuesday and Wednesday as more than a foot of snow fell in the Crawfordsville area. The snow has had an impact on several Wabash events.
The basketball team was scheduled to travel to Wittenberg tonight, but the NCAC has postponed that game until Thursday night at 7:30 p.m. The Wabash Women group has postponed its Valentine Day luncheon until noon next Tuesday.
Click here to see photographs of campus taken early Wednesday morning.
Montgomery County remains under a snow emergency as city and county plows attempt to open main roads through town. All county public schools were closed for a second straight day Wednesday.
David Morgan, director of Wabash Campus Services, said he was without about one-third of his workforce. He also said Tim Riley's grounds crew worked from 5:00 a.m. Tuesday through midnight, and were back on the job at 5:00 a.m. Wednesday morning. Even Morgan took his turn with the snow shovel, helping to clear the entrance to Lilly Library.
Bon Appetit Management Company has a bare-bones workforce in place to manage student dining, but meals are on schedule. The only noticeable difference is the use of paper and plastic because the staff can't manage extensive dish washing.
Most main paths across campus were open by the time classes began at 8:00 a.m. By 10:00 a.m., Campus Services had cleared paths to auxiliary buildings such as the Schroeder Center for Career Development, Trippet Hall, and the Wabash Center.
Read the Journal Review's story about the snow storm here.